More
​Looking Back on 2018
As we say goodbye to 2018, we look back on the launches, events, trends and highlights that filled the year.
Product Launches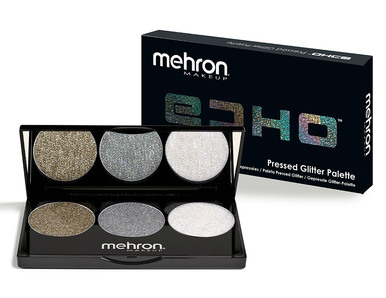 The ECHO Pressed Glitter Palette lets you effortlessly add glitter to face and body - with ZERO fallout. No mixing medium or adhesive required! Just swipe on as you would any eye shadow or blush. It's that simple. Then watch as the three prismatic gold, silver and opalescent shades strikingly shift and reflect spectral light. Wear ECHO alone or apply it over your favorite Mehron makeup products. Opt for a sheer amount for an ethereal look or build up to make a bold statement. Vegan, Cruelty-Free, and Paraben-Free.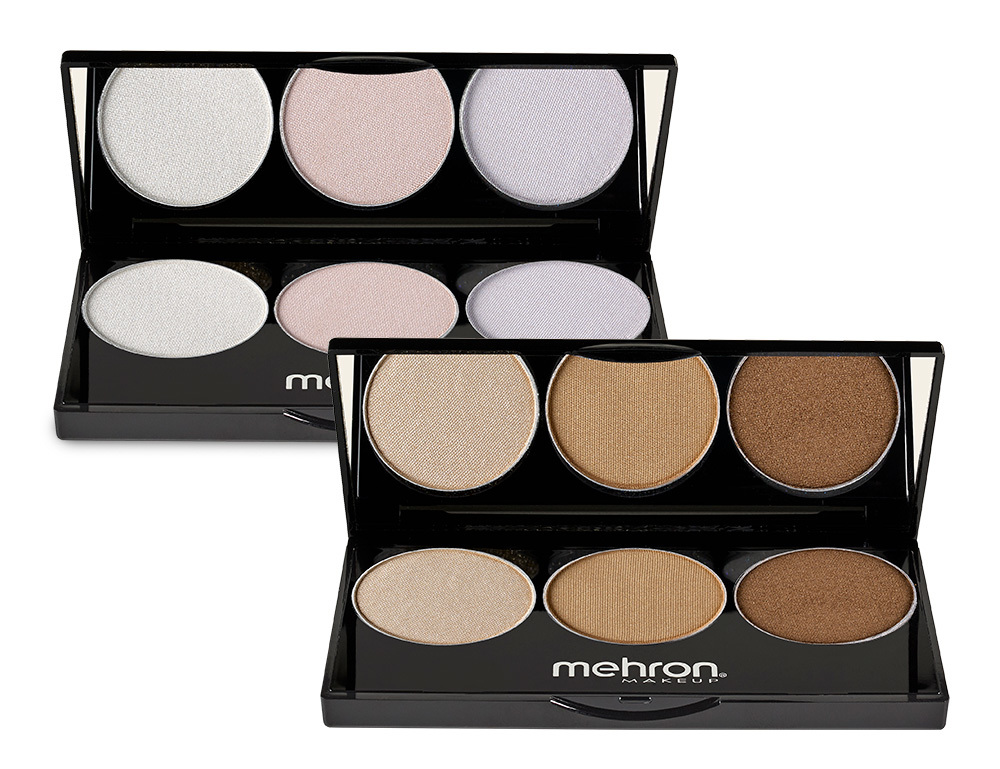 Our two Highlight-Pro palettes are pure luxurious luminescence. Each shade provides subtle shimmer and gorgeous illumination. Apply wherever you want a touch of radiance for a soft glow that lasts for hours and hours. The silky, lightweight formula glides on and blends effortlessly, allowing you to quickly and easily create ethereal highlights. Brightening all skin tones, Highlight Pro is perfect for accenting your cheekbones, brows, inner eyes, bridge of nose, cupid's bow and decolletage. Available in COOL and WARM mirrored palettes, each with three varying undertones. Vegan, Cruelty-Free, Talc-Free, and Paraben-Free.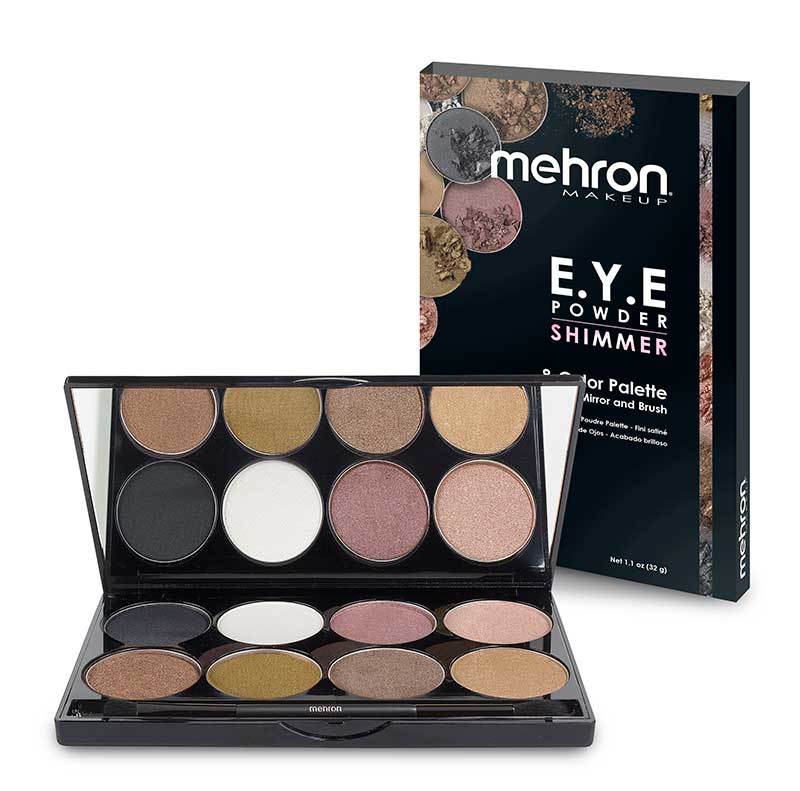 Shimmer E.Y.E Powder takes neutral to the next level. Mehron's neutral-toned, matte E.Y.E Powders have long been a popular makeup kit staple. Now there are eight sister shimmer shades in the collection. The new colors are perfect for creating airy and ethereal looks, a modern smoky eye, or a hint of highlight. The matte and shimmer shades complement each other and a vast range of skin tones.
Special Product Collaborations
In 2018 we collaborated with amazing artists to create two fabulous new palettes.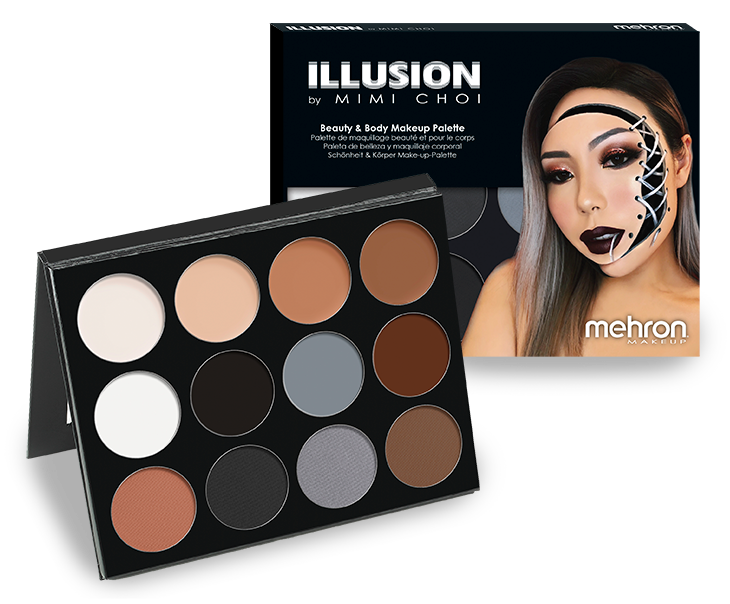 We created a new palette exclusively for renowned optical illusion makeup artist Mimi Choi: Illusion by Mimi Choi. Mimi's mind-bending makeup designs, which are adored by hundreds of thousands of fans across the globe, are regularly featured in media outlets, including Cosmopolitan, Allure, PopSugar and Huffington Post. Now you can recreate her looks and invent your own using the Mimi Choi Illusion Makeup Palette. It contains every Mehron product you need to create astounding illusions: 4 shades of Celebré Pro HD, 4 hues of Paradise Makeup AQ, and 2 E.Y.E Powders, and 2 iNtense Pro Pressed Pigments. Each product and shade was hand-selected by Mimi. Vegan, Cruelty-Free, and Paraben-Free.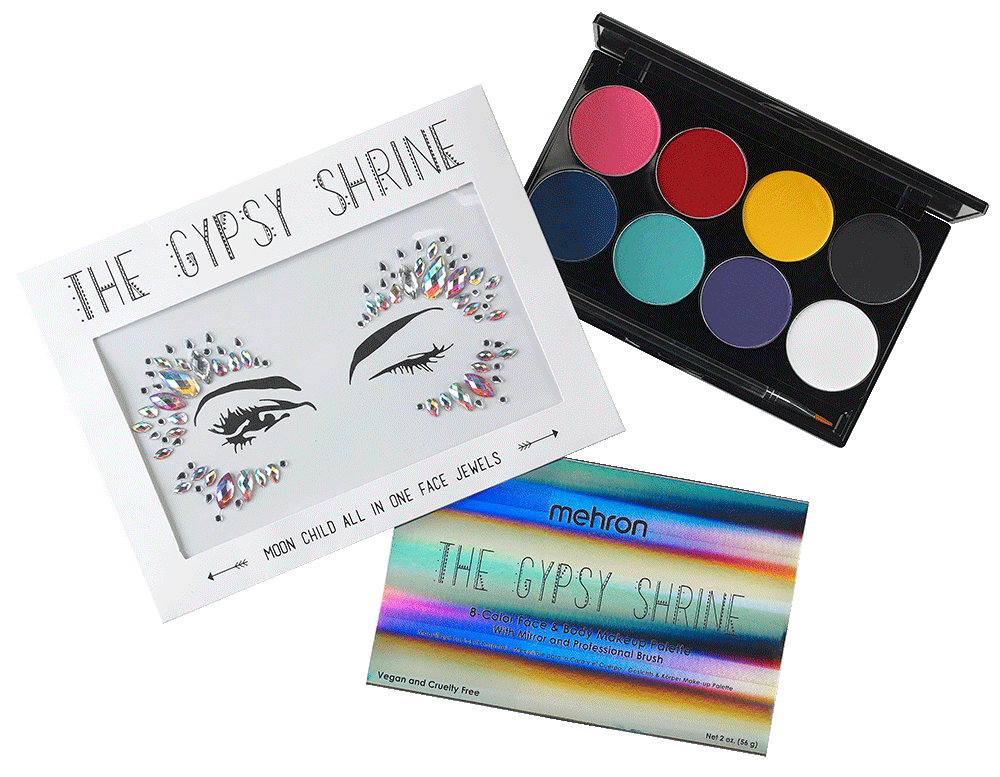 The exclusive two-piece Gypsy Shrine Face & Body Makeup Palette with Jewel Set collection, which was designed with The Gypsy Shrine's founder and creative director, Jenna Meek, pairs Gypsy's most popular face and body jewels with Mehron's professional grade, world-famous Paradise Makeup AQ. The set includes an 8-color Paradise palette comprised of shades hand-picked by Jenna and authentic peel and stick face and body jewels. There are five extraordinary jewel sets from which to pick. This is a Limited Edition collection, available while supplies last. Makeup is Vegan, Cruelty-Free, and Paraben-Free.
31 Days of Mehron Halloween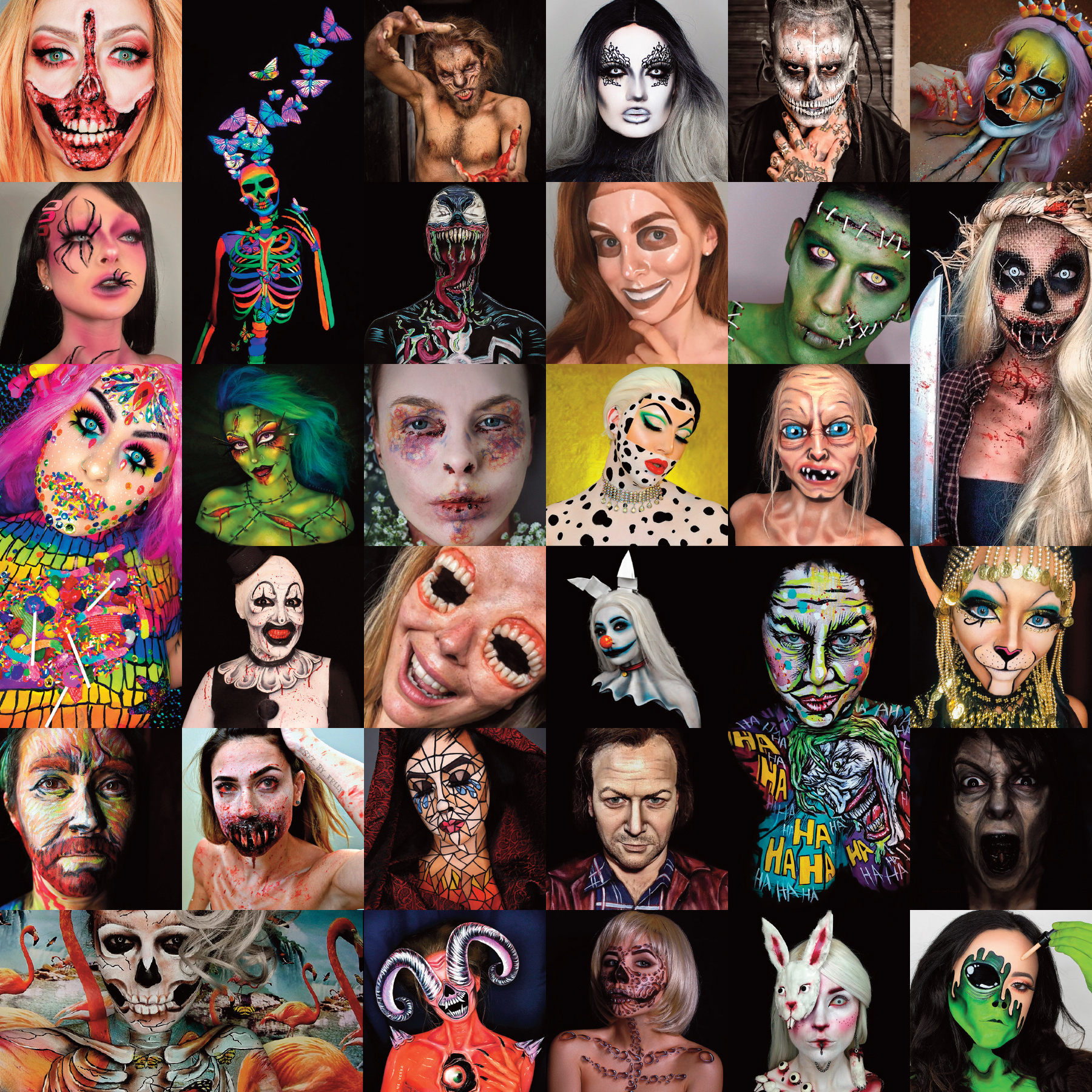 Halloween is always a special time at Mehron, but 2018 was extra-special with all the amazing artist collaborations and the incredible 20,000+ submissions for our annual #31DaysofMehronHalloween Instagram contest. Our winner, Fee Fromkin won for her fresh, monstrous look. Fee is an avant-guarde artist and bodypainter from Chicago. Her submission was inspired by the iconic horror classic Frankenstein. She infused the timeless character with a cartoonish punk rock glam.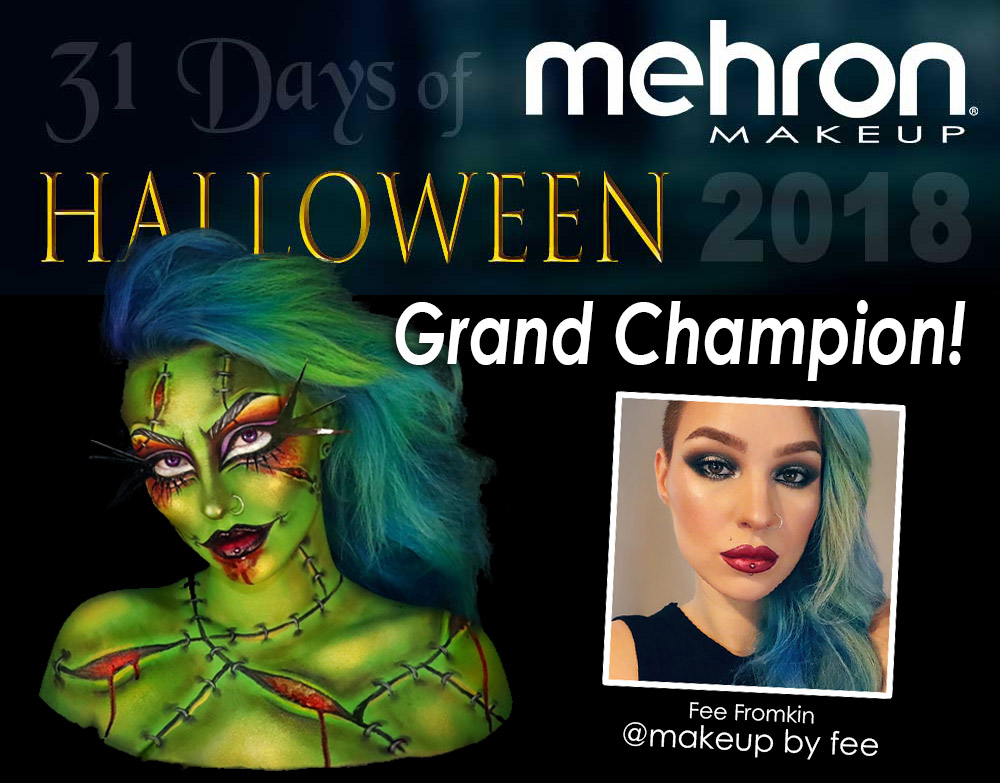 Artists really spiced up the season. We were excited to share so many tutorials on our YouTube channel. A special thank you to: Vanessa Mendez aka @beautyinthe_shadows, Rigo Yepiz aka @ry_fx, Yana Kravchenko aka real.alterface, Corie Willet aka @twistinbangs, Vanessa Davis aka @the_wigs_and_makeup_manager, Johann Steffens aka @johannmork, Brenna Mazzoni aka @artbymazz, Kaneshia Shana aka @kaneshiashana.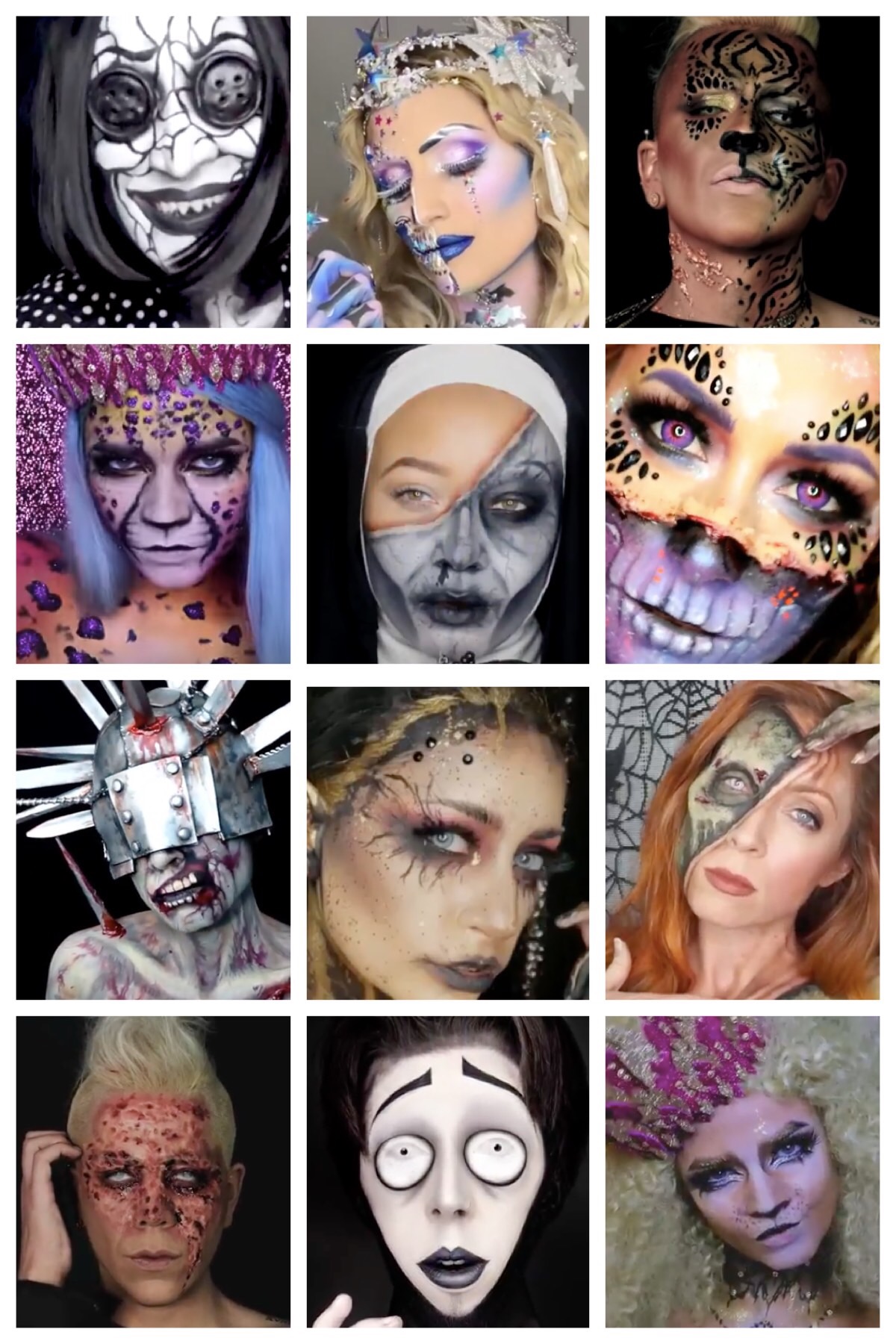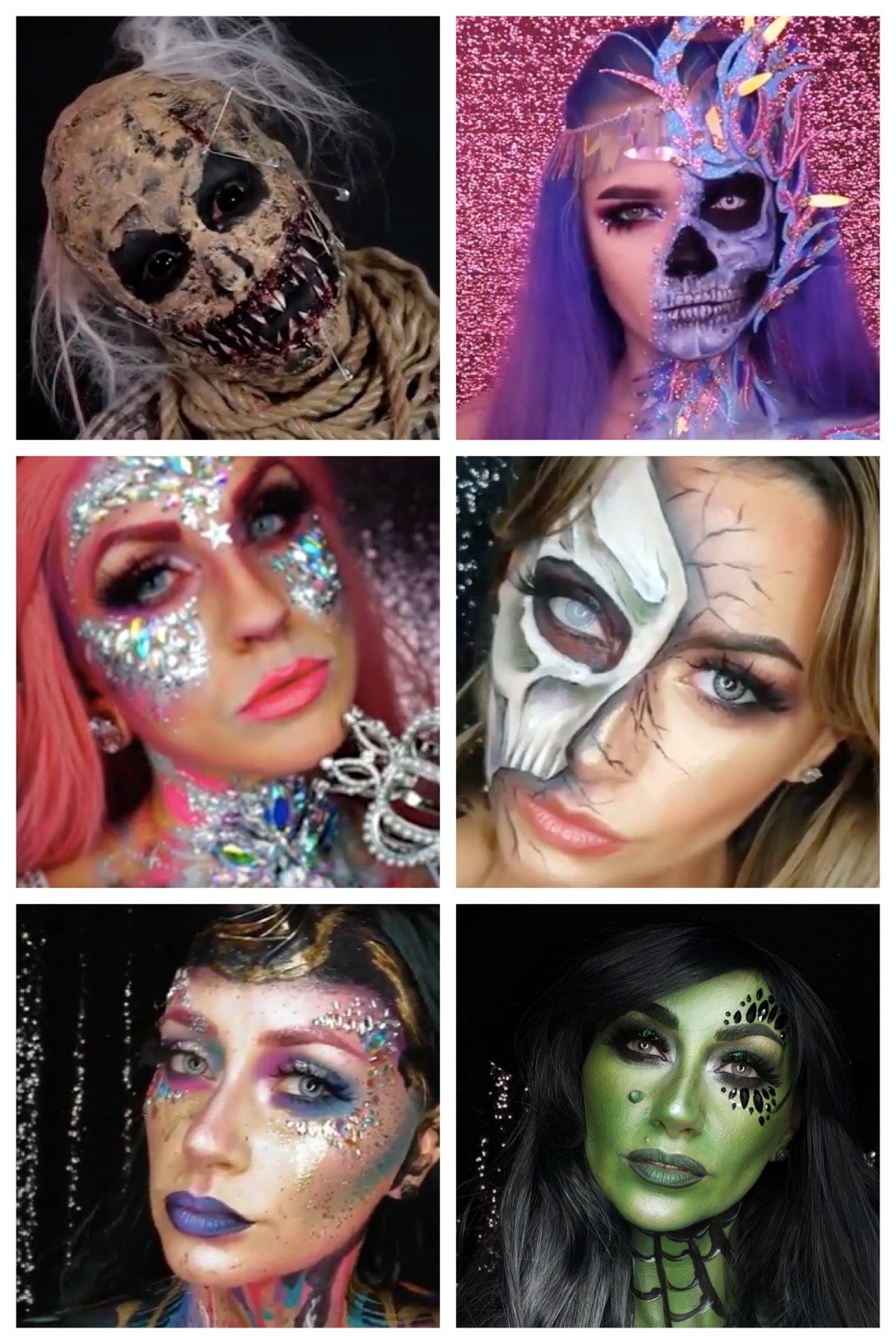 Mehron Sponsors NYFW's FIRST Fully Non-Binary Show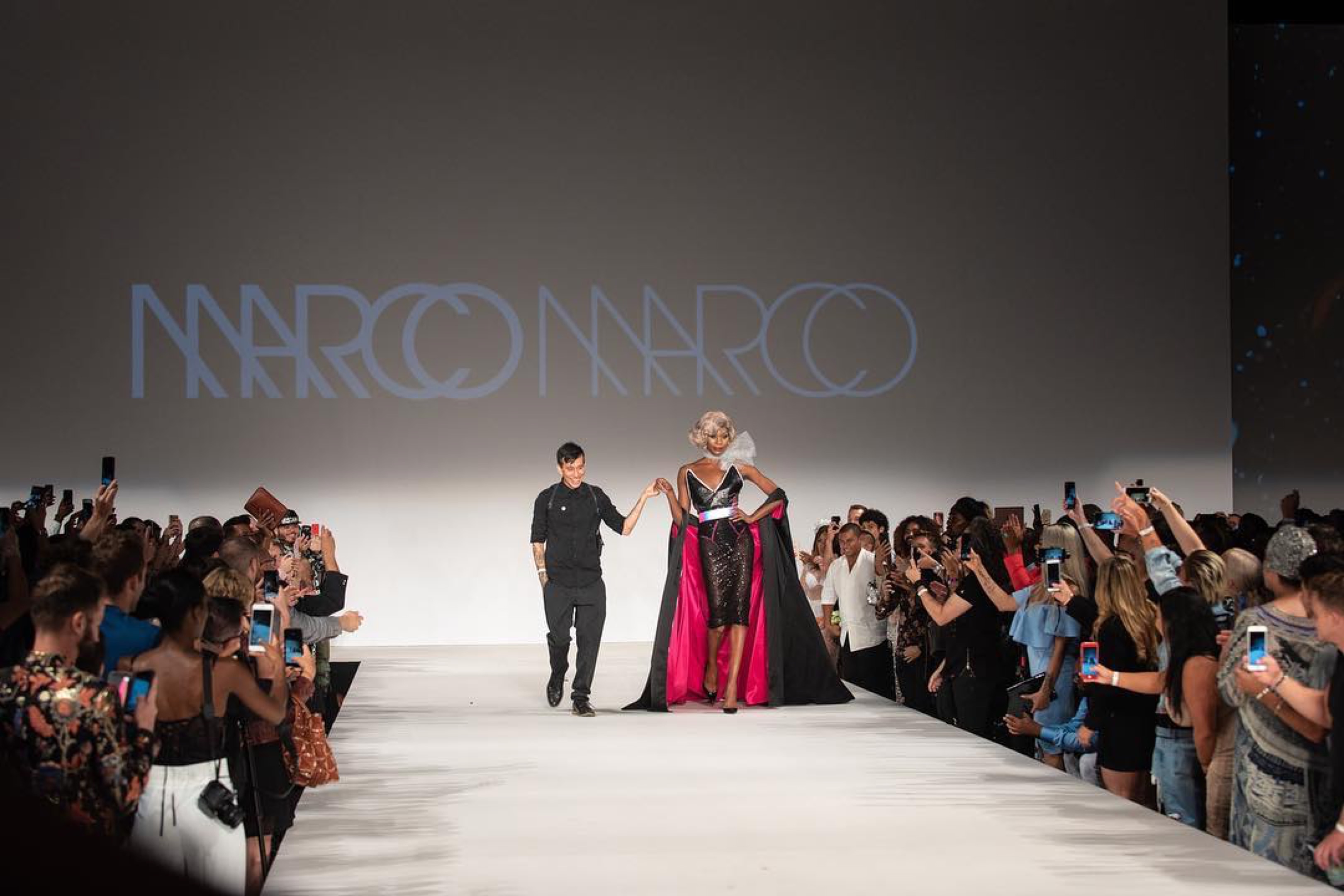 We were proud to sponsor the Marco Marco show. The designer men's underwear company broke barriers by debuting New York Fashion Week's FIRST fully non-binary show casting transgender TV stars, actresses, writers and models. The runway lineup included Gigi Gorgeous, Trace Lysette, Carmen Carrera, Dominique Jackson, Angelica Ross, Geena Rocero, Aydian Dowling, Hanson Gobron, and Laith Ashley. Internationally acclaimed industry pros James Vincent, Paloma Romo, Pepe Gutierrez and more incredible artists created sultry vintage-inspired looks, unique for each model, with Mehron Makeup for the Spring/Summer '19 show.
"It's all about body and beauty, allowing us to bring across a very '50s inspired look that we are changing to address the personality of each person. I knew that Mehron would allow me to bring across the pieces that I needed given the vast range of products," said James Vincent, makeup lead for the show.

Mehron is so proud to have been a part of this groundbreaking event and its definitive social impact. We couldn't agree more with designer Marco Morante's quote in Mic magazine:
"Although I have always had trans and non binary people in my shows, it became apparent to me that their presence was often overshadowed by cis gay men or cis gay men in drag," designer Marco Morante said in an interview when asked about the casting. "I wanted to create a space to celebrate trans bodies. This was an opportunity for their presence to be undeniable and reinforce that trans is beautiful."
The Mehron Boy Movement
As we highlighted in a blog featuring a few of our favorite Mehron Boy looks that graced our Instagram feed, genderless beauty has hit mainstream. While this may seem like a trend to some, it is NO trend to Mehron. Rather, it has been the norm; it is intrinsic to what we do as a brand. We have embraced, supported and celebrated genderless beauty for decades. With our strong performance roots, Mehron has long catered to the makeup needs of the stars of stage and screen - regardless of gender - with many leading male stars wearing our products long after their performances ended. This commitment to inclusivity stayed with us as we developed our beauty line. It is nice to finally see other brands recognizing that there are no gender boundaries when it comes to beauty. For us, inclusivity was never a marketing decision. We have been, and always will be, a brand that embraces diversity in art and in life. We salute the Mehron Boys for challenging traditional beauty norms and shining a light on a movement that mainstream is now acknowledging.
Fabulous Blog Features
You, the artists, continually inspire us. We want to spread that inspiration. So, we frequently featured art and artists that move us. Some of this year's blog features included:
Rigo Yepiz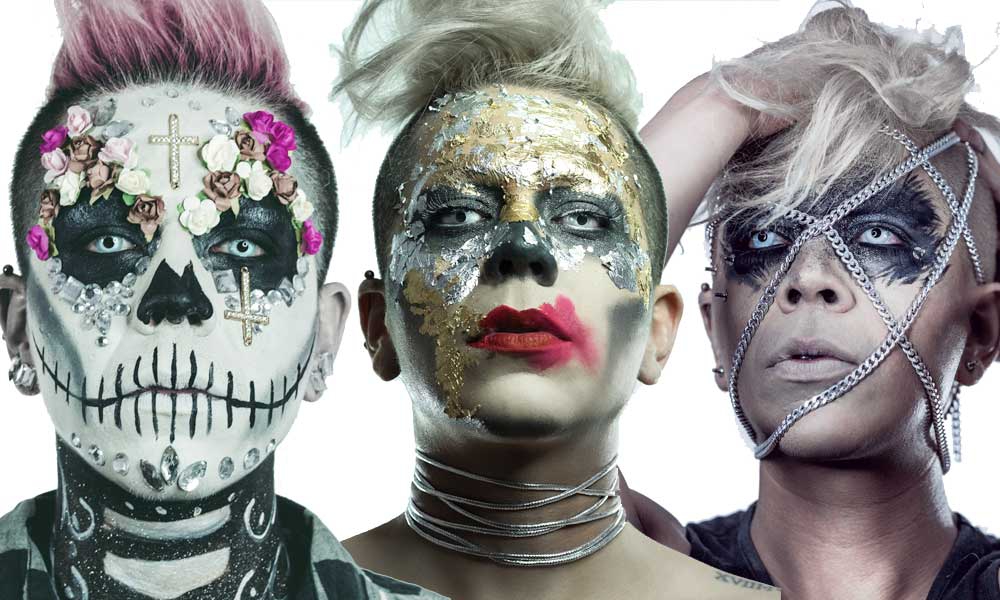 Meet the first Mehron Spotlight Artist of 2018: Rigoberto Yepiz. This makeup and special effects artist was the Grand Champion of our 2017 31 Days of Mehron Halloween Instagram contest. We were so impressed by how Rigo - who had only been practicing his craft for one year - demonstrated the power of Mehron products in his evil scarecrow submission. It was, however, his humble reaction to the win that truly inspired us.
Georgina Ryland
Aussie Mehron Girl Georgina Ryland was in the US for a holiday and we are so excited she made time to visit the Mehron NY studio and chat with Mehron Creative Director Stephanie Koutikas, which we broadcast on Instagram Live. If you don't know Georgina, you need to! Her art is out of this world. The detail of each look is simply amazing. As a makeup artist, she is talented in both the beauty and performance arenas, but Georgina is perhaps best known for her chest pictorials, which have been featured on such magazine sites as Allure and Cosmopolitan. Many of her looks are movie driven because she likes to paint things she and her friends enjoy. As a result of this focus and the caliber of her work, she was commissioned to do a pictorial for the Guardians of the Galaxy sequel - a definite must see. Although this Mehron Girl has some serious talent, she doesn't call herself talented, but rather skilled. She practices her craft a minimum of one day a week. Her main advice is to push yourself to constantly practice.
Valentine's Day Looks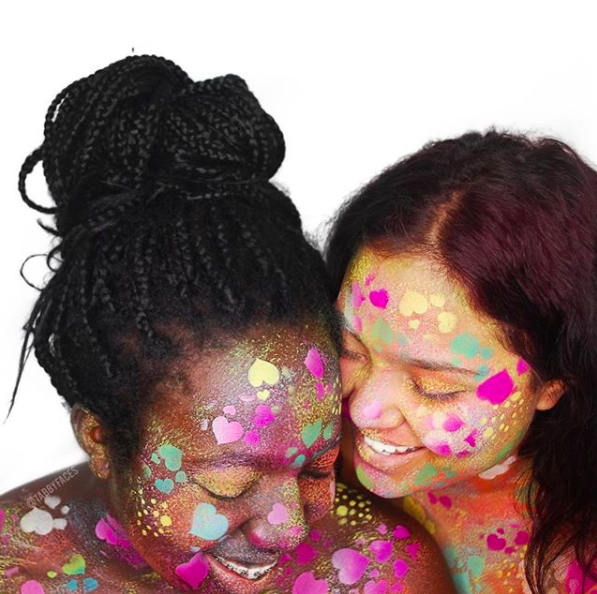 Love was in the air - or maybe not! Valentine's Day evokes a broad range of emotions from light fun to deep passion to unrequited love. As we perused our Instagram feed, we saw all of these feelings expressed through extreme makeup looks. There were pink hearts, black hearts, bloody hearts - and we loved them all! Art as the expression of the soul is truly inspiration. We never cease to be amazed by the looks created with our face/body and special effects makeup. The art that filled our feed demonstrated the endless creativity the versatility of our products offer to artists. We were happy to have shared a few of the Valentine's Day looks that pierced our hearts.
He May Be Glam Master, But He was a Mehron Boy First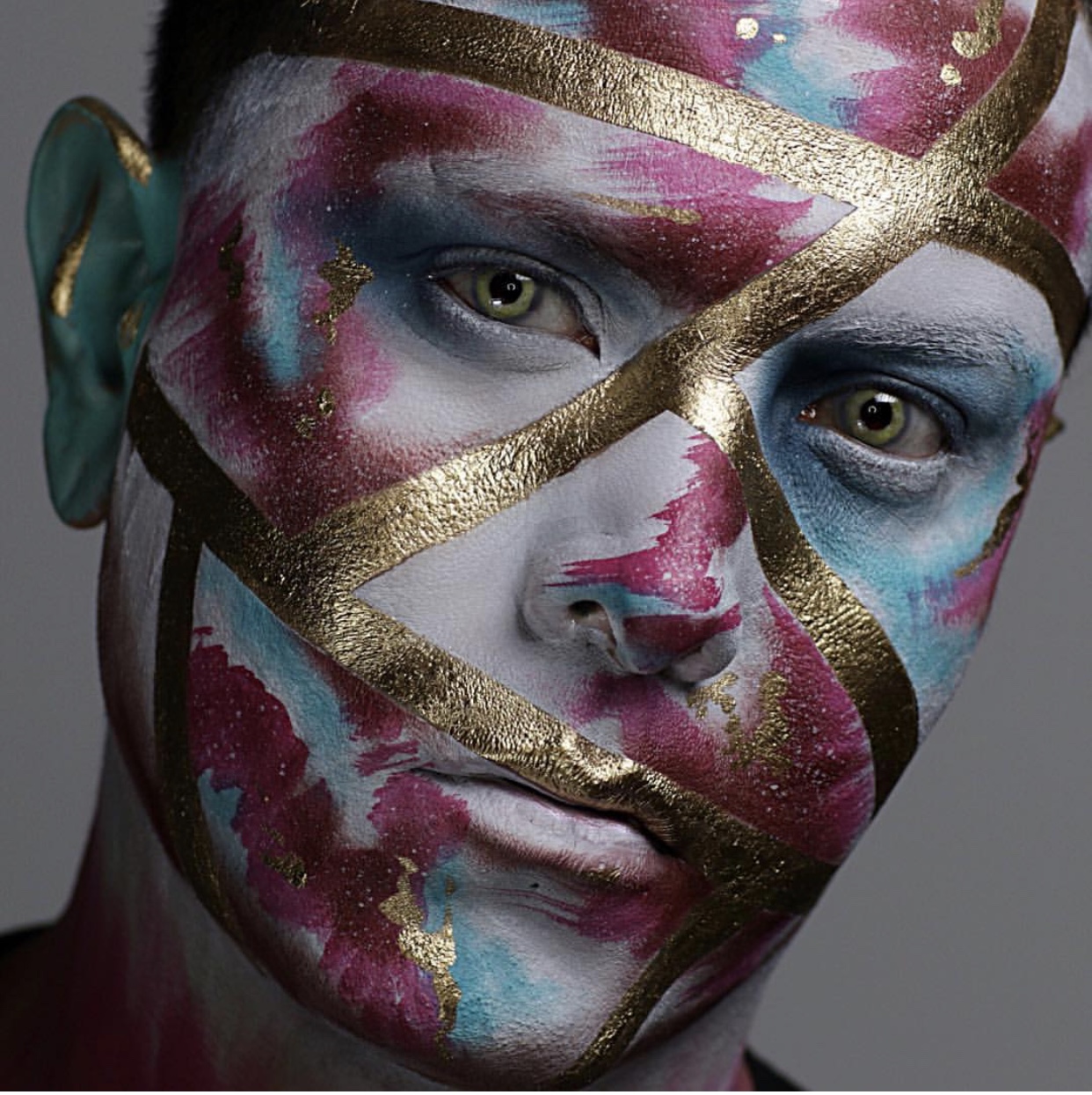 Argenis Pinal was recently crowned Glam Master. He was the first winner of Lifetime's new competition series Glam Masters, where beauty influencers go head-to-head in makeup challenges to prove they have the talent, charisma and vision to be the next big name in the beauty world. We always knew Argenis had what it took to win, and now so does everyone else. This extremely talented artist has long been a Mehron Boy. His iconic superhero looks are typically created using our Paradise Makeup AQ. But Argenis' talents extend beyond his comic book looks; he is also an incredible MUA as the competition demonstrated.
We have collaborated with Argenis in so many aspects - working with the Mehron team at trade shows, doing Mehron theatre makeup tutorials, assisting with hair and makeup for Mehron photo shoots, and utilizing his art for Glitter Spray packaging. We caught up with him to learn more about his show experience.
The Winner of the Spring #NextFaceofMehron Contest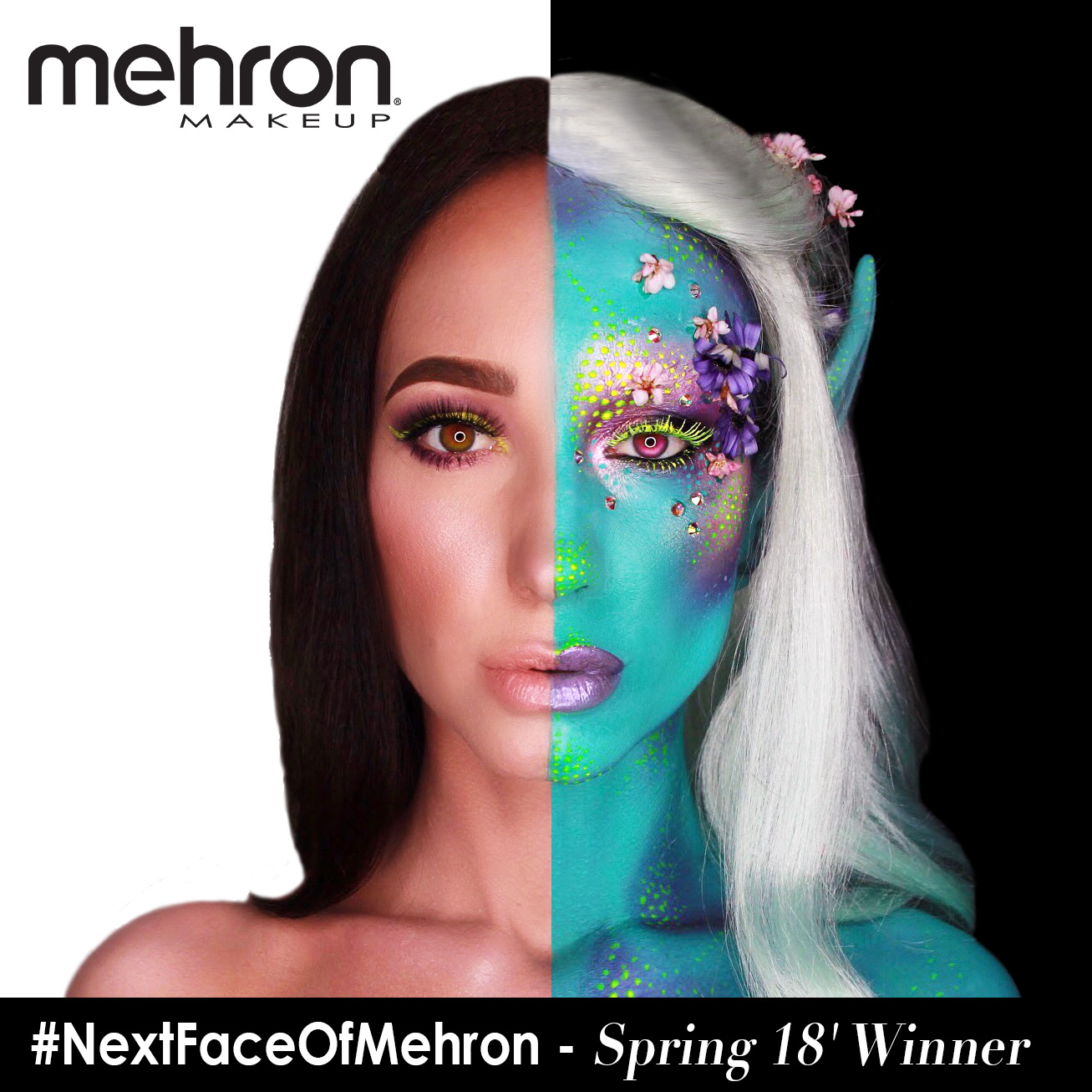 We kicked off our Spring Face of Mehron Instagram contest to find an artist who could combine the two makeup worlds of Beauty and Performance into one stunning spring themed makeup look. All of you Mehron Boys and Girls who competed made it extremely difficult to select a winner. The creativity and care that went into each entry was utterly inspiring. But, ultimately, we had to choose . . . and the winner is Lisa Marie Murphy. This Mehron Girl took Teal to the next level, and her inclusion of real flowers truly had us feeling spring vibes.
Catie Bowers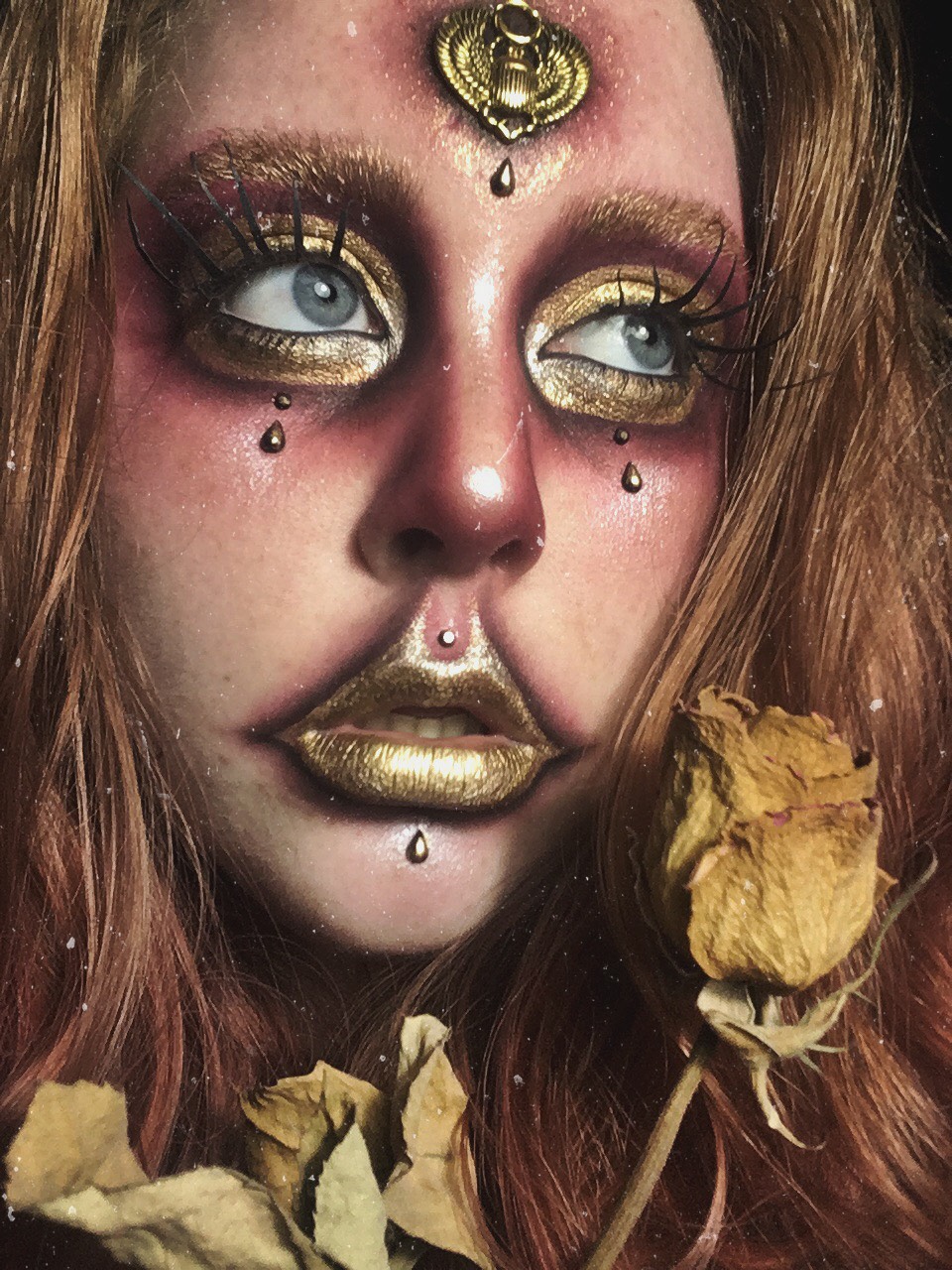 Creating a signature style . . . Caity Bowers has nailed it. Just one glance at this young artist's Instagram page and you can see she has conceived a look that is all her own. From the bold statements of color to the sparse, long lashes, Caity's makeup application is definitely unique. The Australian artist, who is currently studying visual arts, is drawn to surrealism, inspired by Rene Magritte and Salvador Dali. In addition to featuring her makeup looks, Caity's Instagram page also showcases her artwork. We would say both are surely surreal. Her unconventional style is definitely unlocking our imagination! Read our interview below to find out more about this moving artist who is making her mark with Mehron.
Paradise Makeup Co-Creator Jinny Celebrated 15th Year with the World Bodypainting Festival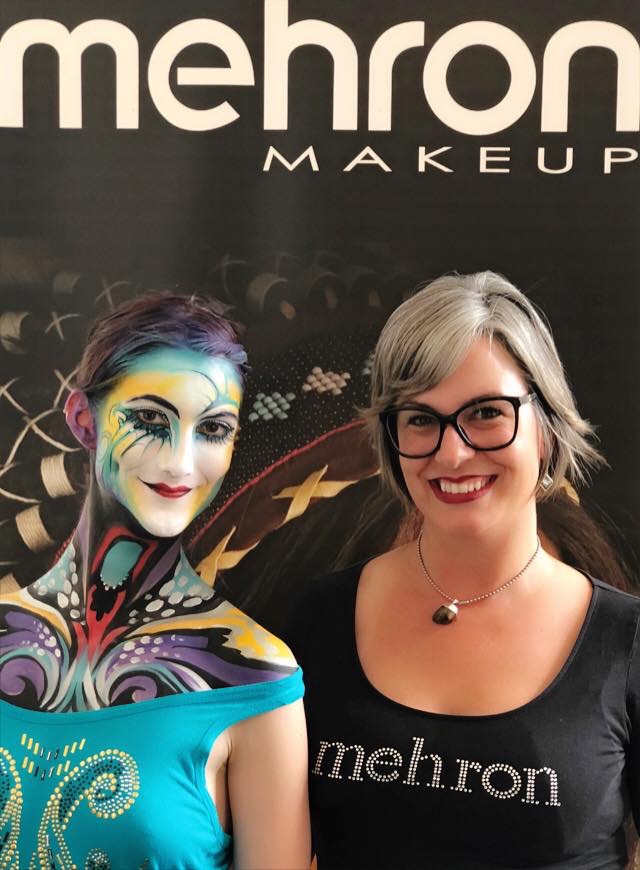 Jinny, co-creator of Mehron's Paradise Makeup AQ line celebrated her 15th year at the World Bodypainting Festival (WBPF). The award-winning artist judged the festival's esteemed competition, as well as shared her tips and techniques with students in Mehron classes. Her vibrant designs and clever use of color have captured the hearts of fellow artists and fans around the world. She has been the artistically creative influence behind Cirque du Soliel productions and her work has been featured in international media, books, movies, magazines, commercials and shows. Read the blog to get a glimpse of how she became a part of this popular event that draws artists from all over the globe.
TRENDS
Instagram vs. Real Life Makeup Makes You Look Twice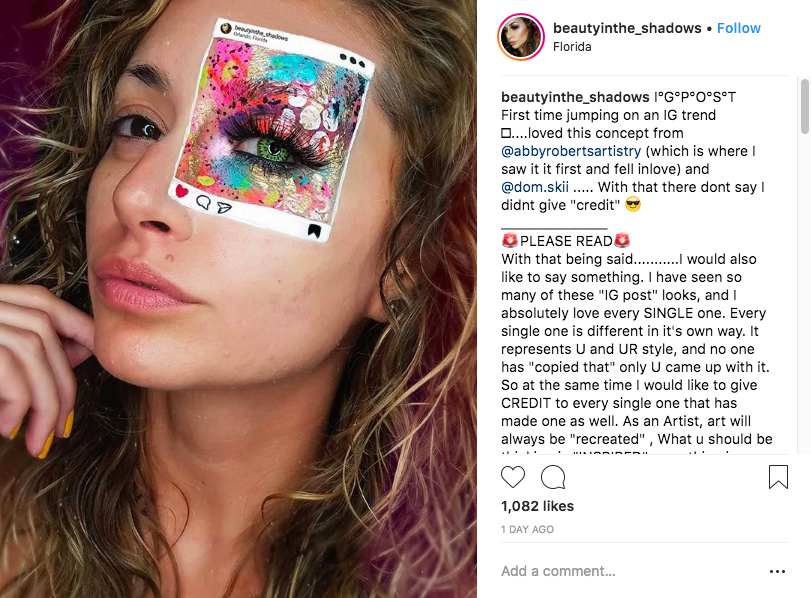 A new beauty trend - "Instagram vs Real Life" makeup - was ALL OVER the social media platform. The trend involves creating a makeup look on one part of the face, outlining it with a realistic Instagram frame, and leaving the rest of the face natural. The end result mimics a real life Instagram selfie, within another selfie. Dominic Porras started the trend last month with his post titled "picture perfect". His look, which resembled Insta-ception, has inspired other artists to try the trend. These posts are shining a spotlight on the work, lighting and possible editing that goes into creating a flawless selfie that may be difficult to recreate and helping spread the word that makeup doesn't have to be picture perfect.
Full Organic Brows & Bold Blush for Fall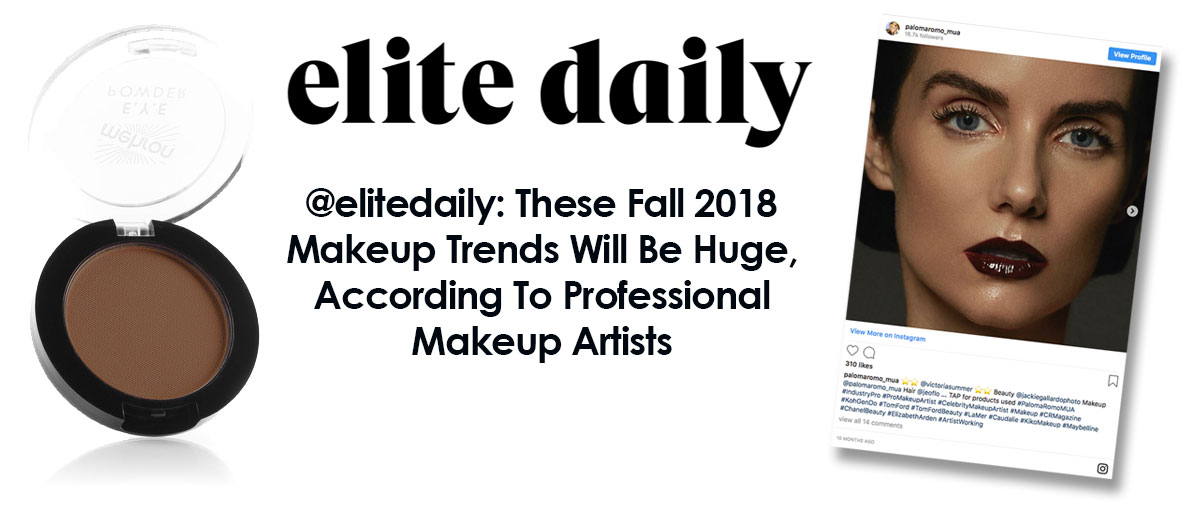 MUAs Paloma Romo and Raul Otero shared their tips for trendy Fall 2018 Makeup using some Mehron favorites with elite daily.
According to Paloma, "the edgy look is coming, and it's fierce!" She recommended pairing cool, glossy lids with full, organic brows. "For brows, the fuller the better!" says Paloma. "Make sure to just draw strokes simulating brow hairs. I've been using the matte Mehron E.Y.E Powder($9, mehron.com) to accomplish this look, and I apply it with an angle brush."
Raul Otero, who has worked his makeup magic on many Victoria's Secret models and celebrities like Camila Cabello, believes blush will be huge next season. "This fall, I see blush making a major statement. Wind-flushed cheeks can be achieved with Mehron's CHEEK Cream ($8, mehron.com)". This celeb MUA suggests gliding the CHEEK Cream on using your fingers or a brush, starting at the apple of the cheeks, then dabbing and blending until you have achieved the perfect flush.
Frosted Lips – A 2018 Hot Winter Trend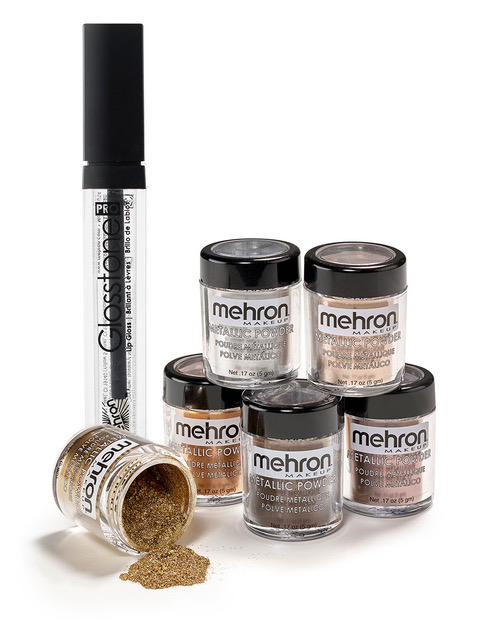 In the beginning of 2018, PopSugar listed frosted lips as one of "10 Winter Beauty Trends That Will Make You Love The Season Even More" - and we wholeheartedly agreed! A frosted lip is a fabulous way to add shimmer to your look. A subtle frost can bring out the natural color of your lips or add dimension to an underlying lip color. And a full on frosted, aka metallic, lip definitely makes a statement. With Mehron's Metallic Powder you have the option of subtle or bold shimmer. And with its six colors - Gold, Silver, Bronze, Copper, Rose Gold, and Lavender - there is a range of hues to choose from.
THANK YOU FOR A FABULOUS 2018!