Congratulations to the Grand Prize Champion of 31 Days of Mehron Halloween...
4th Nov 2022
31 Days of Mehron Halloween is a yearly tradition on the Mehron Instagram, eagerly awaited by all of our Instagram followers to submit their makeup looks for a chance to be the next 31 Days of Mehron Halloween Grand Champ. This year, we had a twist – each finalist selected in the 31 days won our Paradise Makeup AQ™ 30 Color Pro Palette! At the end of the month, the Grand Champ won a prize package of a variety of our products, valued at over $3,500!

We had a great selection of creative submissions all throughout spooky season, ranging from disturbing special effects makeup concepts to full detailed body paints. Submissions came from all over the world, with finalists' locations ranging from Poland to California! We had over 6,000 entries this year. Since the competition began back in 2015, we've gained over 100,000 entries overall!

Throughout the month of October, the Mehron Pro Team selected each finalist, with careful consideration accounting for the usage of Mehron products, artistic ability, creativity, and overall eye-catching execution. When it came down to choosing the Grand Champ, it was incredibly difficult to choose between so many talented finalists. Ultimately, we narrowed it down and were able to decide unanimously on one creator that stood out for their creativity and execution.

Carrie Esser, aka @makeupmadhouse !!!!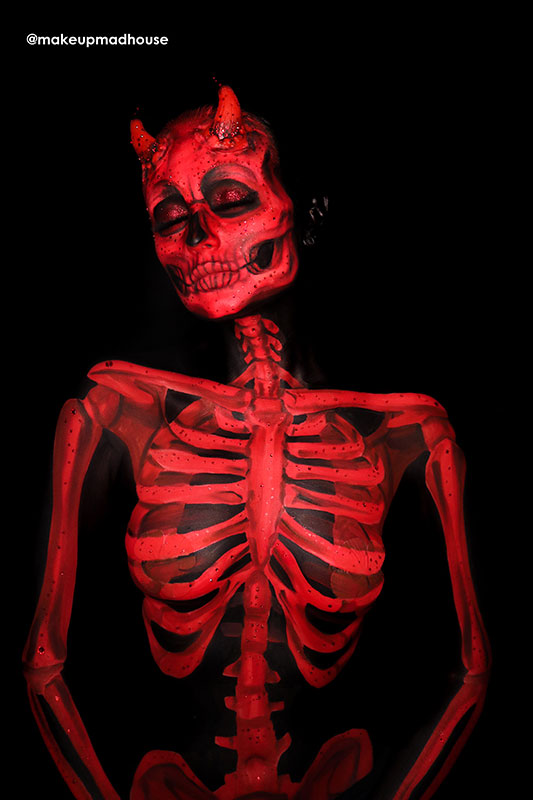 She used Mehron EDGE in Black and Paradise Makeup AQ™ in Beach Berry and Red!

We absolutely loved this skeleton devil mashup, combining two classic Halloween looks with an incredible and unique design. From the flawless application to the overall utilization of Mehron products, this look totally impressed our team. Here's a bit more about Carrie in our Q&A with her:

Q. Tell us about yourself and how you became interested in makeup artistry.

A. My name is Carrie and I am Ohio born and raised, now living in sunny Arizona! I have explored many art forms since I was a child and dove into makeup around 2013. I am coming up on nearly 10 years as a self-taught creative makeup artist and body painter and am incredibly passionate about this medium.

Q. What inspired this look?

A. I am a sucker for creating skeletons as I love the depth and dimension that can be achieved with them. I also love seeing how much growth and improvement can be made from practicing them more and more. I wanted to combine a devil and skeleton to give a bold, eye-catching Halloween makeup.

Q. How did you create this look and which products did you use?

A. I used Paradise Makeup AQ™ in Beach Berry and Red as well as my favorite Mehron EDGE in black. To create this look, I began by applying the devil horn prosthetics. Next, I mapped out the entire skeleton in Beach Berry, filled it in with Red and Beach Berry, created some shadows and depth by gently mixing the reds and black together. After this, I created a strong, opaque background by filling in the rest of the area with black. I finished the look with some hand placed rhinestones and glitter!

We want to thank everyone who submitted a look, this was an amazing year for submissions and all of us at Mehron were blown away by the talent and creativity of our followers! Don't be too bummed if you weren't selected this Halloween season...we may have something new & frightfully fun coming very soon... :)