31 Days of Mehron Halloween Finalists Week 2
21st Oct 2021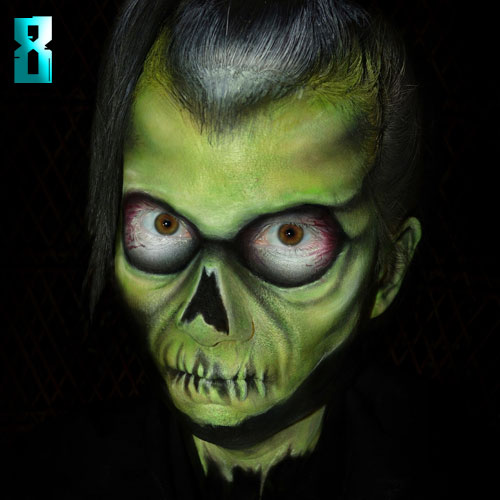 Oct 8th Finalist
Goosebump's Shrunken Head by artist @trashleysface. What's so striking about this look is the bold pop of green and insane detail. Just look at those eyes! This is brush technique at it's best. The blending, the strokes, the highlights, and shadows all come together beautifully to create the look of old, weathered skin. The use of black background and black body paint to void out the rest of the body really makes it look like this head is floating in space! The artist uses CreamBlend, Touchup Anti-Shine, and Paradise Makeup AQ to achieve this look.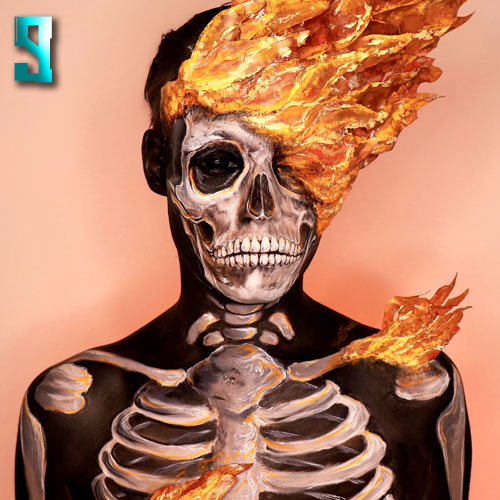 Oct 9th Finalist
Fire Skull by artist @damngoodface. This is just such a cool makeup application. Not only the body paint, but the 3D props adhered onto the head and shoulder. It really gives the illusion of being on fire. The artist chose EDGE Face & Body Makeup for the stark black and white of a classic skeleton and our Paradise Makeup AQ for the blended hues of orange, yellow, and red flames. This look brings a beautiful illusion and unique look to a classic Halloween skeleton.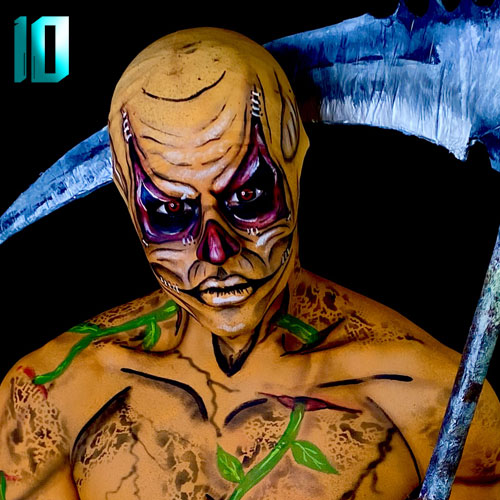 Oct 10th Finalist
Sam Hain from the Horror film Trick r Treat by artist @mannyreymakeup. This artist is another returning contestant in our contest. He is a master body painter and really takes his art to the next level with props and accessories. Sam Hain has been a huge character circulating this Halloween season and we love this artist's interpretation of the character, not to mention the long list of Mehron products used to create this masterpiece! Bald Caps, Spirit Gum and Remover, Liquid Latex, Setting Powder, Mixing Liquid, Liquid Makeup, and Paradise Makeup AQ all were used in the making of this look.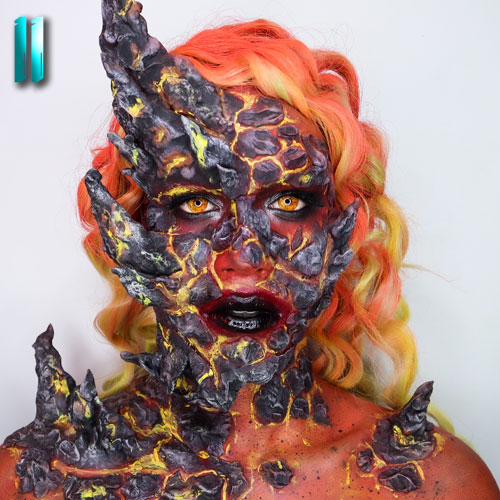 Oct 11th Finalist
Soul of Lava by artist @vivantiwari_official. This was inspired by the film Moana and who doesn't love a good Disney movie? We also enjoyed this artist's take on a classic child's film full of colorful cartoon characters, but putting a darker more artistic spin on it. Anything 3D will always be eye popping as well! This looks like a time-consuming application with all the pieces of molten rock glued to her skin and the bright colors of Paradise Makeup AQ and EDGE peaking through to create the look of scorching lava.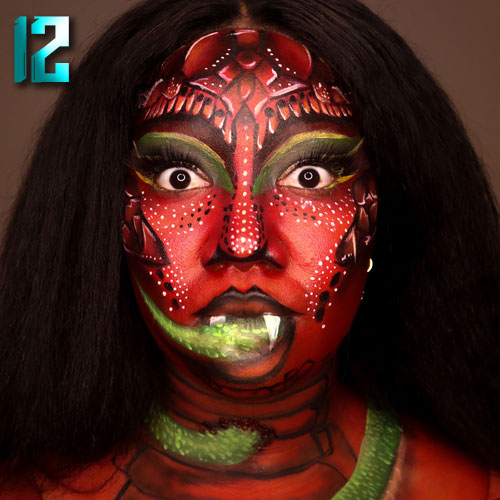 Oct 12th Finalist
Viperine Snake by artist @makemeunusual. We love the detail in this look, especially the intricate design on the face. The artist creates a beautiful illusion of a snake slithering through her soul and exiting out of her mouth using our Paradise Makeup AQ 30 Color Palette. The entering of the snake turns her into one as well, hence the snake like features of the eyes and scaly neck. We love the concept of this and the application.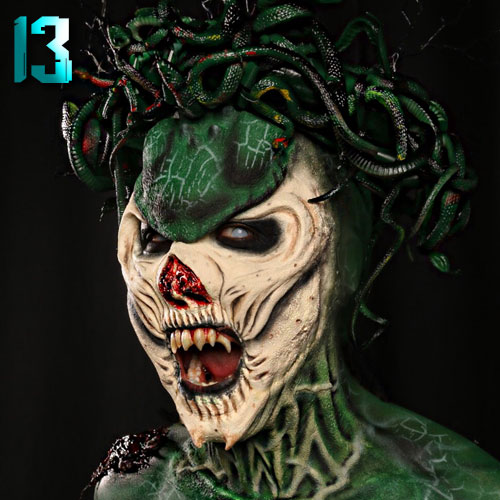 Oct 13th Finalist
Male Medusa Skeleton Demon by artist @christiiquin. This is quite the combo of ideas and looks. Medusa, Demons, and Skeletons? Why not all 3! This look is so creative and fun. The detail in the face and neck alone are jaw dropping. We can see why this artist used our Skin Prep Pro ahead of time to prep the skin to hold this amount of paint, prosthetics, and accessories. Our Paradise Makeup AQ brings the entire character to life with bold shades of green and a few hints of red. This artist really stepped outside the box with this character.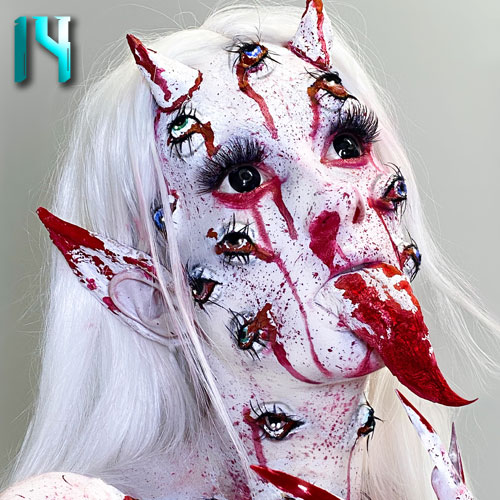 Oct 14th Finalist
Creepy Creature with 1000 Eyes by artist @bleedinbeauty. Another unique look inspired by Pixies and Devils. This looks like it came straight out of someone's nightmare and we love everything about it. What makes this so interesting is that all of the eyes are really popping off the skin and have their own 3D lashes. It brings this character more life as opposed to painting all the detail on 2 dimensionally. We really love that touch. This artist used a ton of Mehron as well…Liquid Latex, Clown White, Paradise Makeup AQ, and topped it all off with Stage Blood.