Must See Body Art by the Incredible Georgina Ryland
9th Feb 2018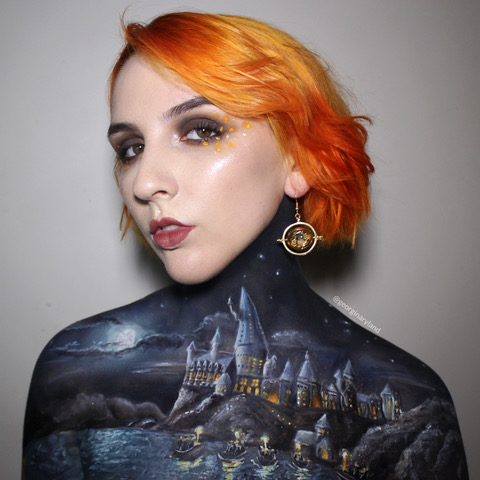 Every time we see a new body art image from Georgina Ryland we are immediately blown away by the amazing detail. The intricacy of her work is just incredible. It is no wonder she was commissioned by Marvel to create a Guardians of the Galaxy pictorial in celebration of the release of the movie's sequel. This Mehron Girl is synonymous with stunning imagery of movie and television favorites. And it's not just Mehron who is such a fan. She has over 50,000 Instagram followers, and each of her posts typically garner thousands of views and likes. We just had to share some of our favorite pictorials and learn about the inspiration behind them. Read on to find out more about the fabulous Georgina Ryland and the art she creates with a little help from Paradise Makeup AQ.
Thor
Mehron: What inspired each of the looks? From where do you draw inspiration in general?
Georgina: My inspiration comes from everything - I'll just paint what I want to try out! I am generally inspired by my favorite things. I do a lot of pop culture related material as it is always fun to paint something I love, and especially when others also enjoy it. I also quite regularly paint my friends' favorite shows, games, etc., just to see their reactions.
I always like to try new things and challenge myself, so I will always pick subjects that are just that little bit outside of my comfort zone; I've seen a lot of growth since I've focused on that.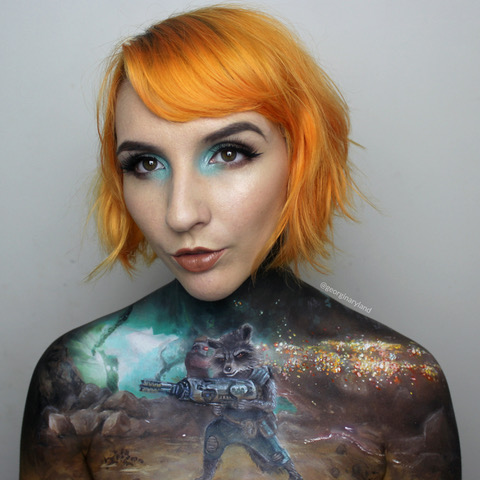 Guardians of the Galaxy
Mehron: How long does it take to complete each look?
Georgina: The length of each look depends on the complexity. My more detail intensive pieces, such as Stranger Things, Guardians of the Galaxy, etc., have taken upwards of eight hours to paint; whereas, slightly "easier" pieces can take anywhere from three-six hours. It's a labor of love, and I work full time, so squeezing in an eight hour paint can be difficult.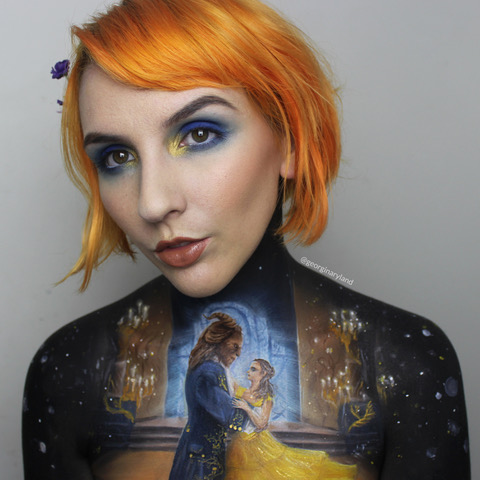 Beauty and the Beast
Mehron: How did you start body painting?
Georgina: I accidentally fell into it. I was getting ready with some friends for a Halloween party and tried making skull designs on my face with eyeshadow. I realized it was kind of fun, so I bought some very cheap eyeshadow palettes and started playing on my face - drawing unicorns, dinosaurs, butterflies - whatever my friends and I thought would be funny to do. I then realized I was actually picking it up very quickly, so I bought some cheap paints, played around with more designs and the rest is history. I first started painting five years ago, but I have very much focused on developing my skill within the last two or three years.
I went to makeup school and am now professionally trained in prosthetics and special effects film makeup, and it's there where I first tried Mehron, and have used it unwaveringly ever since.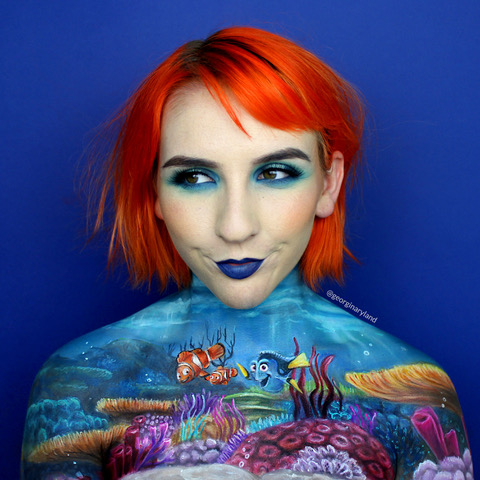 Nemo
Mehron: What artists inspire you?
Georgina: I'm heavily inspired by other artists, both in art fields and makeup.These include traditional artists (such as Hokusai, Van Gogh, Monet, etc.), tattoo artists (Sasha Unisex, Tritoan Ly, Chris Rigoni) as well as incredible makeup artists such as Nelly Recchia, Becca Gilmartin, Joanne Gair, Timothy Hung, and Kelseyanna Fitzpatrick. I have a broad range of inspirations; really if it can be translated to skin, I'm always inspired!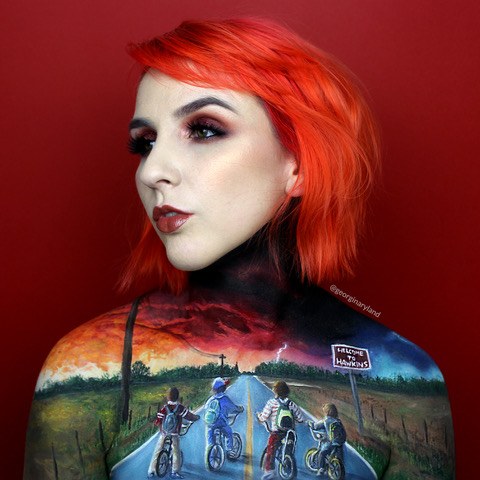 Stranger Things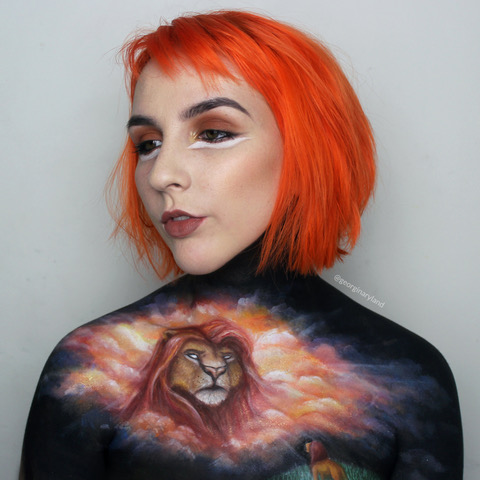 Lion King
Mehron: Are there any application or technique tips you want to share with our readers?
Georgina: Use anything that works. Use your fingers, a toothbrush, a straw, a comb - play with texture, experiment and try something new - get messy! Practice at least once a week. If you want to improve, you have to allocate time to it and push yourself - even if it means you have zero free time to yourself haha.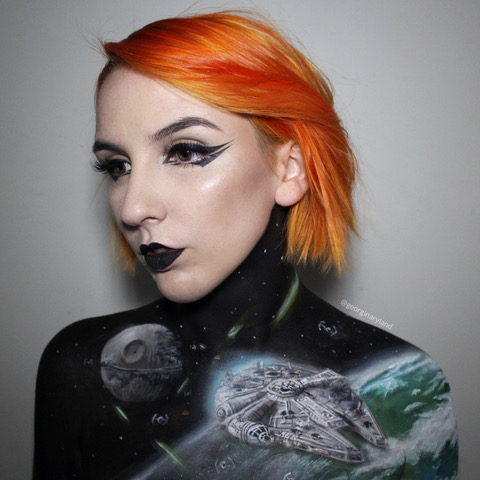 Star Wars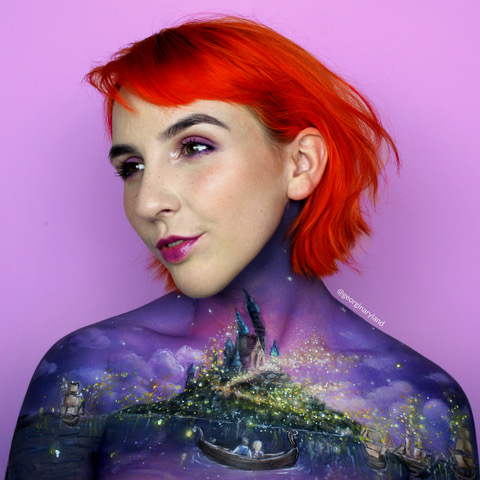 Tangled
See more of Georgina's work at www.georginaryland.com. Catch her latest creations by following her on Instagram (@georginaryland), Twitter (@GeorginaRyland), and YouTube.