Special Effects Zombie Halloween Makeups Trending This Halloween
6th Sep 2022
Halloween is upon us, and we have the best products for the hottest looks this year! Looking for a classic Halloween makeup look that is sure to give a scare? Try one of these zombie makeups! You can choose from either a face paint based classic, risen from the grave zombie or a glam, yet decaying SFX based zombie. Our collections come with easy to apply products and easy to follow tutorials.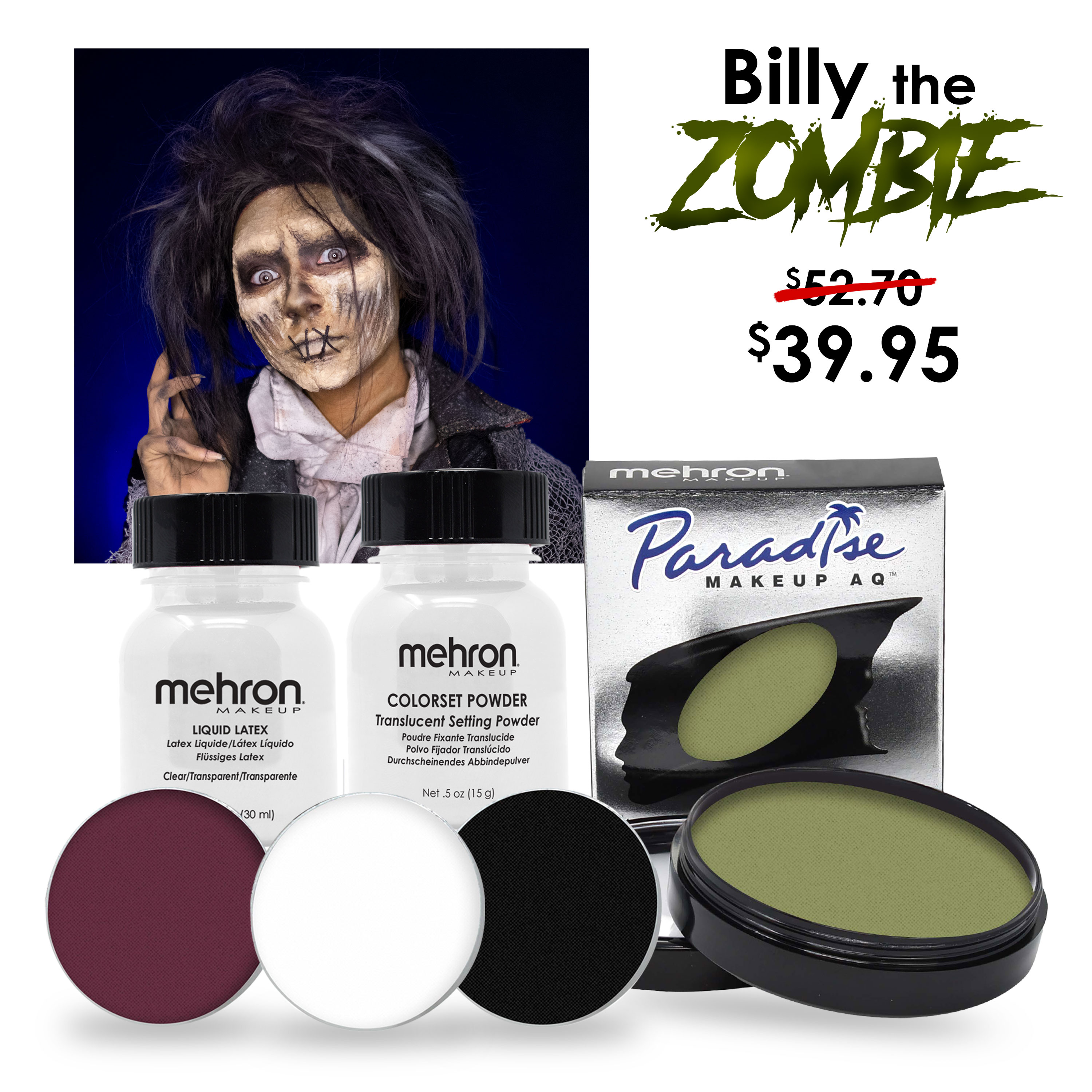 Billy the Zombie

With new popular Halloween movies coming out this fall, you're sure to have a standout costume at any event with this Billy the Zombie SFX makeup tutorial. Plus it's easy to recreate with our 7-piece kit!

Special Effects Makeup Artist @mcroft07 puts together this Billy Butcherson Hocus Pocus Halloween SFX makeup look using all Mehron Makeup products. Melissa begins her look by sketching out her FX design with a Black Eye Pencil to know where to place the latex. Next, she uses Mehron Liquid Latex in Clear with tissue paper to create a raised skin effect, carving out where she wants indents in the skin to create a sunken zombie appearance.

Once the Liquid Latex is dry, she sets the makeup with ColorSet Powder to lock it in, then applies Mehron's Paradise Makeup AQ™️ in Olive to amplify that undead look with some decaying color. Paradise White helps highlight the raised portions of the face and Wild Orchid hollows the eyes, while Black deepens any crevices and hollows out the contours of the face.
Add on a few finishing touches like a sewn-on mouth with some string and a torn-up outfit and you're all finished, freshly risen from the dead and ready to roam Salem!

Watch the tutorial:

Shop the look:
https://www.mehron.com/billy-the-zombie/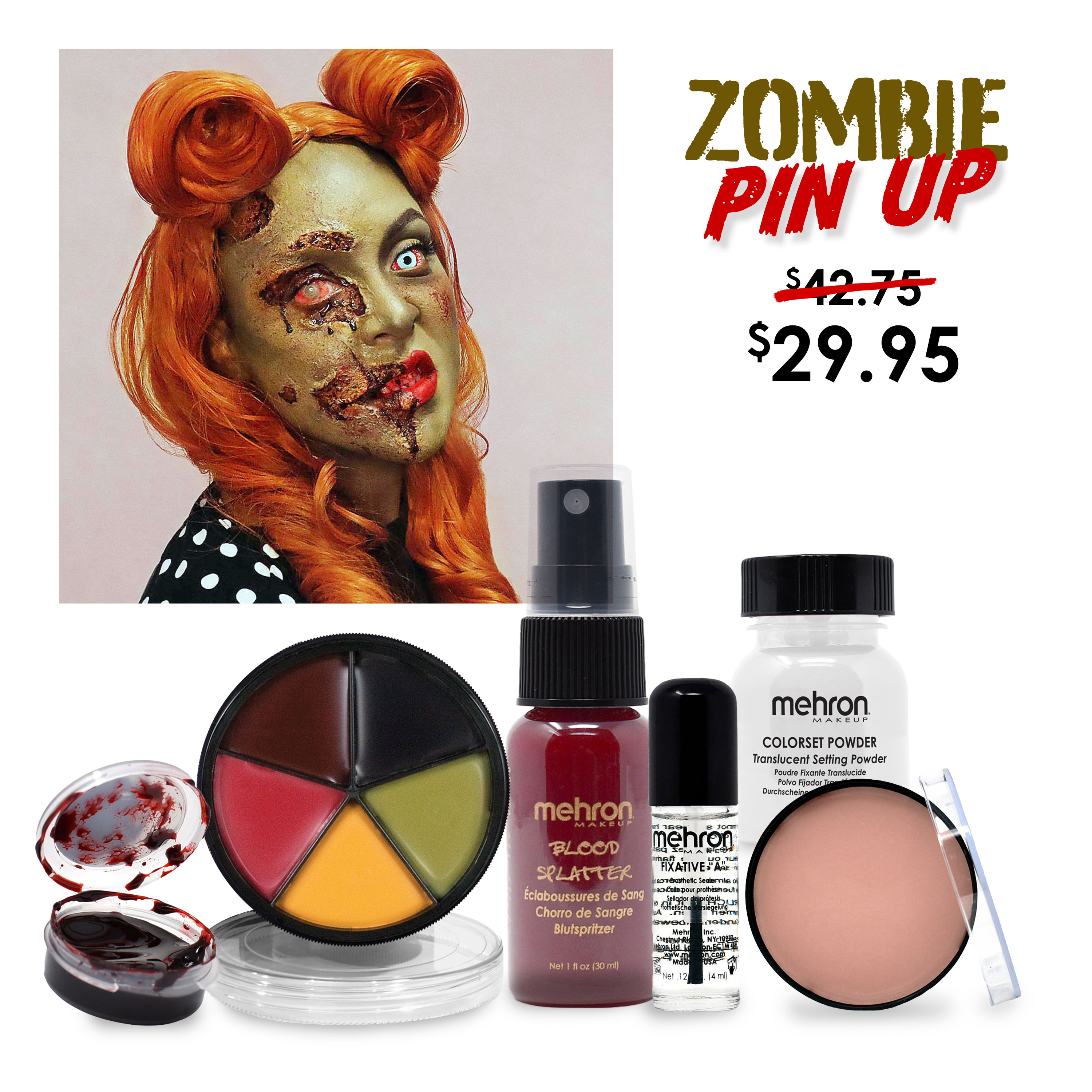 Zombie Pinup

What's the perfect zombie look that's gory and glam at the same time? You don't have to choose one or the other with our super easy beginner special effects Zombie Pinup makeup look! This is one of the quickest ways to apply a special effects wound with a touch of glam. This kit includes 6 pieces with everything you need for the perfect zombie.

Artist @slwcrea8 shows how to create a horror zombie side of this look by going in with Mehron Extra Flesh to get that torn up wound on the skin effect, then sealing it with Fixative "A". She uses the green tone from the Mehron ProColoRing Bruise Wheel and mixes it with her everyday foundation to get an all-over dead skin appearance. This campy horror zombie is inspired by The Return of the Living Dead and is sure to get a scare!

She continues by contouring her face to give a more sunken-in appearance with some deeper shades in the Bruise Wheel. Shanice applies various other tones of the Bruise Wheel to further amplify the decaying effect of her face in the wounds and add veins. Then sets everything with Mehron ColorSet Powder to lock in her look for the night.

Finally, she throws on our Coagulated Blood and Blood Splatter to finish off the look. To really bring out the pinup, classic Hollywood portion she throws on a quick winged eyeliner and red lip for the perfect quick beauty makeup. This can be completely your own beauty look or just a simple recreation of what is seen in the video – up to you.

Once completed, throw on your best pinup outfit and you're ready to head out for a night on the town while looking both sultry and scary – the best part being you can vary the levels of the look, whether it be more glam or more horror.

Get the collection:
https://www.mehron.com/zombie-pinup/

Watch the tutorial:
Make sure to follow us on all of our socials below for more spooky content, tips, and tricks this Halloween season!