Halloween Bodypainting Made Simple
7th Sep 2022
We have 3 super easy and unique bodypainting makeup looks to try out this Halloween season! Each look is sold as a collection of products and is accompanied by a quick tutorial done by some of our favorite makeup artists so you can follow along as you create the look. This takes away the trouble of having to put together a whole costume – the makeup is your costume! Simply choose your collection below, add some accessories, and your look is complete. Let your makeup be the front runner this Halloween and cosplay as one of these three characters: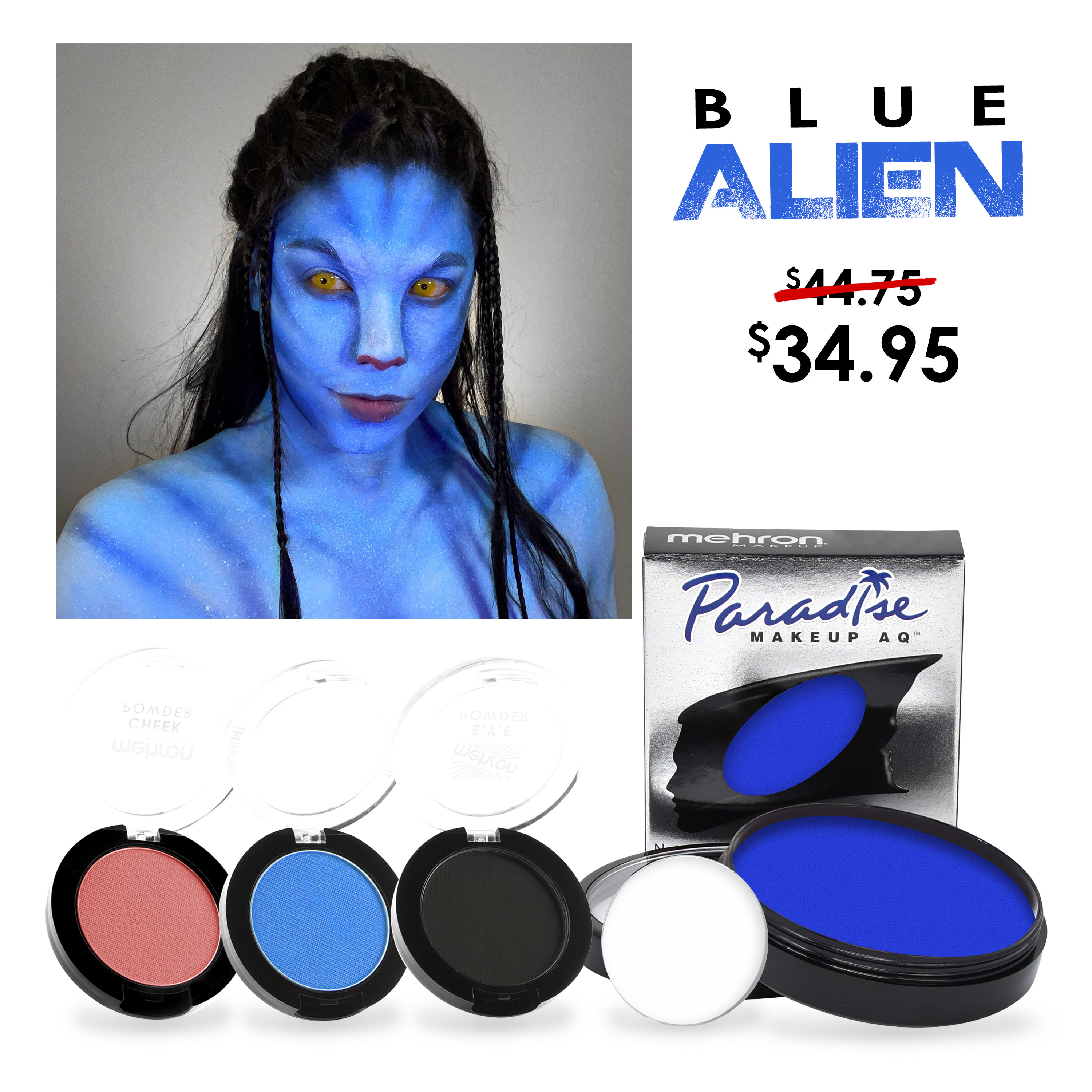 Blue Alien

@bryan.mua teaches how to create a super cool blue alien makeup look with our 5-piece set. He starts this beginner bodypainting makeup tutorial mixing Mehron's iconic Paradise Makeup AQ™️ body paint in shades Lagoon Blue and White to create the perfect light blue shade.

He then goes in with shading using our iNtense Pro™ Pressed Pigment in Ignite to define his features. Black E.Y.E Powder is used to deepen the eyes. CHEEK Powder in Rosewood is the perfect pink shade for the animal-like nose and lips. He then goes back in with more Black Powder to create more contour lines around the face and chest.

Finally, Bryan uses our Neon UV Glow Paradise shade in Dark Matter to splatter on some spots which glow under black light to imitate that bioluminescent glow effect. You'll be the stand-out costume at any Halloween party or cosplay event!

Get the collection:
https://www.mehron.com/blue-alien/

Watch the tutorial:
---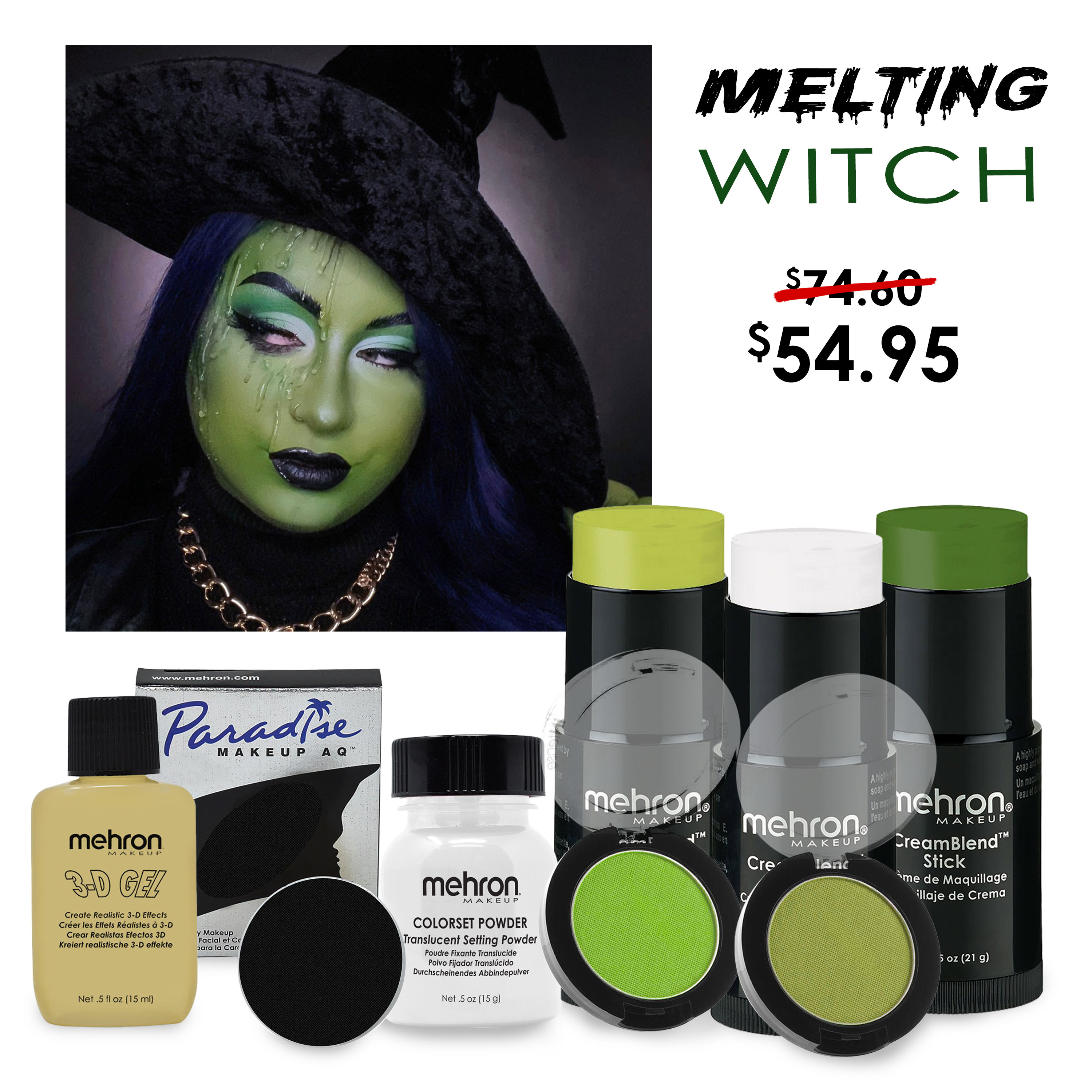 Melting Wicked Witch

In this tutorial, @raydiatebyraychel shows off her best Wicked Witch look using Mehron products, transforming from a glam green witch into a melting witch in a few easy steps with our 8-piece collection. You can either go for the glam version, or amp it up with our 3-D Gel for a special effects horror version.

She starts off her look by using CreamBlend™ Stick Makeup in Green, White, and Ogre Green. She achieves the perfect shade of green by highlighting using the Ogre and White shades on top and then sets everything with ColorSet Powder to lock in the look and keep it lasting all night long. You can even throw on some of Mehron's Barrier Spray™ to make your Halloween makeup sweat resistant and long wear.

Raychel then uses our iNtense Pro™ Pressed Pigments Mountain Moss shade as the perfect green contour for this witchy glam beauty makeup look. To achieve a cut-crease, she goes in with CreamBlend™ White and iNtense Pro™ Mountain Moss, as well as Palm all on her eyelids. Rachel applies the finishing touches with our Paradise Makeup AQ™️ in Black for eyebrow detailing, winged liner, and the perfect spooky black lip. Your glam look is now complete! You can stop here or continue if you'd like to go the spooky route.

For those who want to really amplify and make your wicked witch look a bit scarier and more unique, you can use Mehron 3-D Gel in Clear! It heats up in the microwave easily and liquifies for dripping special effects look of melting skin solidifying and it will then hold its shape once dry. A touch of shading with some black and green eyeshadows completes this Halloween look of a melting wicked witch!

Get the collection:
https://www.mehron.com/melting-witch/

Watch the tutorial:
---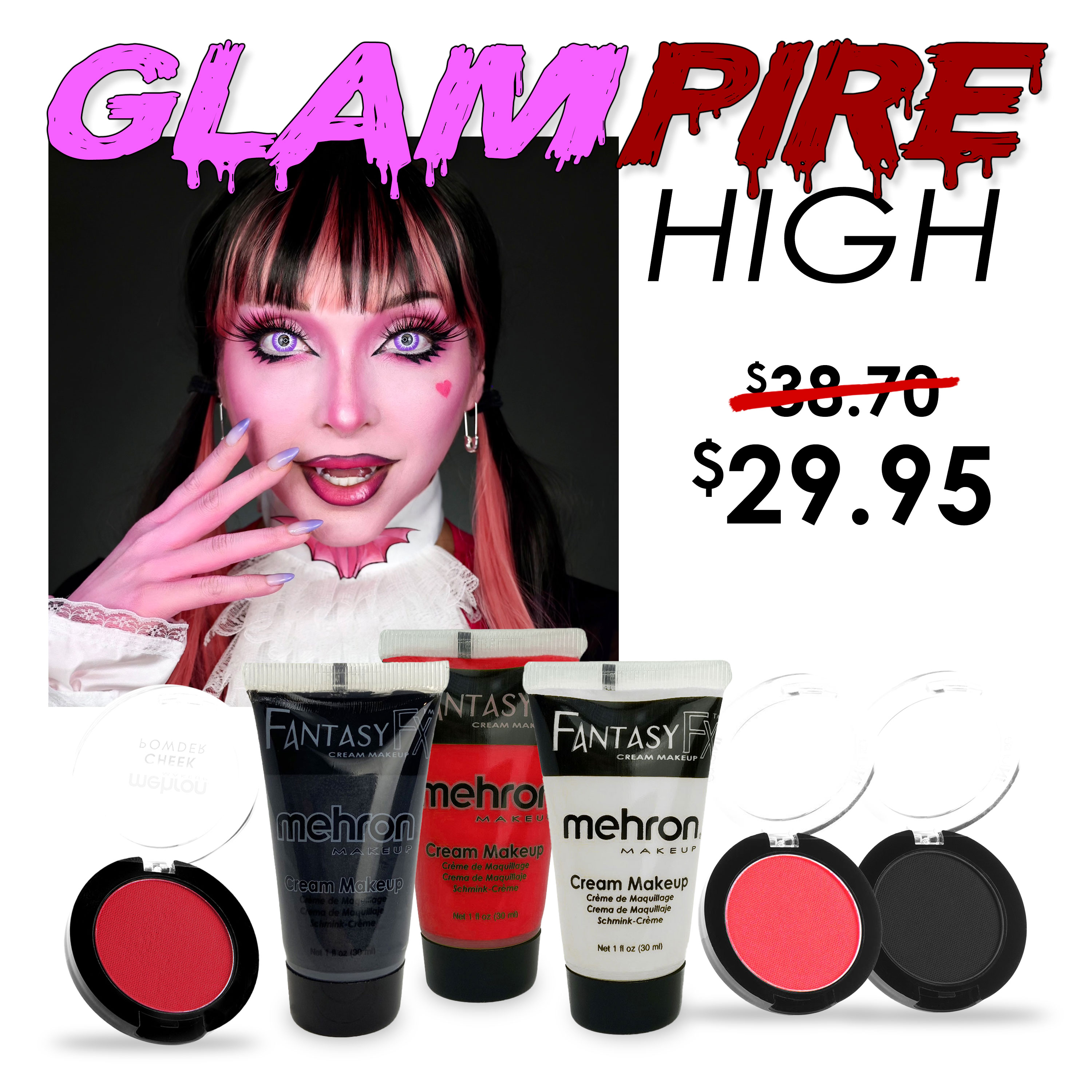 Glampire High

Makeup artist @christina.alexandraa shows us how to create this super cute Monster High Draculaura body paint! It's the perfect spin on a vampire look with some added girliness and glam.

She starts off with Mehron Fantasy FX™ in shades Red and White mixed together to make the perfect pink base that also helps pale out the skin for a ghoulish look. Fantasy FX™ is a water-based makeup paint that will blend out super easily and dries down nicely without the need to set it with powder. After the base is set, she then goes in with iNtense Pro™ Pressed Pigment in Hot Pink to contour the whole face and give some dimension.

CHEEK Powder in Bold Red is used to further define her contours and eyes for a smoky pink eyeshadow. Christina adds iNtense Pro™ in shade Carbon to define her brows. Fantasy FX™ in Black makes for the perfect eyeliner to really detail her eyes and give them a doll/cartoon like effect for this Halloween look. The Red, White, and Black Fantasy FX™ all come together once more for the lip details. She touches them up with iNtense Pro™ Hot Pink for an added flush of color and a tiny heart detail.

Add in any cartoon details with White Fantasy FX™ and you're finished – you can even add a pair of fake fangs for a complete glam vampire look that's easy, affordable, and adorable!

Watch the tutorial:

Shop the look:
https://www.mehron.com/glampire-high/
---
Make sure to follow us on all of our socials below for more spooky content, tips, and tricks this Halloween season!