More
Summer Blockbusters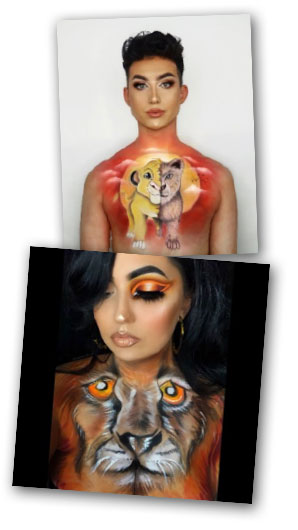 We're only half way through summer and already overwhelmed by the amount of amazing summer film and TV inspired art that's been circulating. The summer hits have been packed with superheroes, animation, horror, sci-fi, and two major Disney remakes. Body paint and beauty artists alike have been letting their imaginations run wild with inspiration and we can't get enough of it.
One film that's reached a record amount of hashtags is The Lion King. Full body paint, chest painting, face paint and even extreme beauty looks have all been popping up depicting scenes from the film, characters, landscapes and tag lines. Paradise Makeup AQ™ and CreamBlend™ sticks are the go-to products for these artists all tagging Mehron in their posts. Check out these looks below by @glambycamx and @makeupp_bynicole: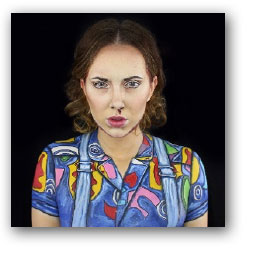 Everyone's been buzzing about their favorite Netflix Sci-fi Horror show, Stranger Things. The show is on it's 3rd season and artists can't stop creating transformation makeup. @summer.stockwell transformed into the main character, Eleven, using her Paradise Makeup AQ 30 color palette. She painstakingly created all the fine detail of the character's costume onto her body and completely nailed it when it came to replicating the facial structure and expression.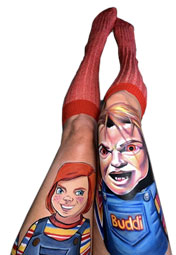 Other artists like @artwithdevon take a less traditional approach by painting on her legs. Her work creates such hype because at first glance you think they're tattoos. She also prefers staples like Mehron's Paradise Makeup AQ and CreamBlend to get rich color payoff and smudge resistant finish.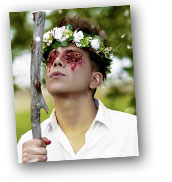 Don't forget summer horror! Halloween is just around the corner. Films like Midsommar and Annabelle 3 have artists putting their special effects products to incredible use. This look entitled May King by @ry_fx is created entirely using Mehron Special FX makeup, the eyes were created using 3D Gel! So if you're looking for inspiration for your next art project then head to your local theater and soak in the astounding array of horror characters!