Sparkle with Metallic Brows this Holiday Season
24th Nov 2017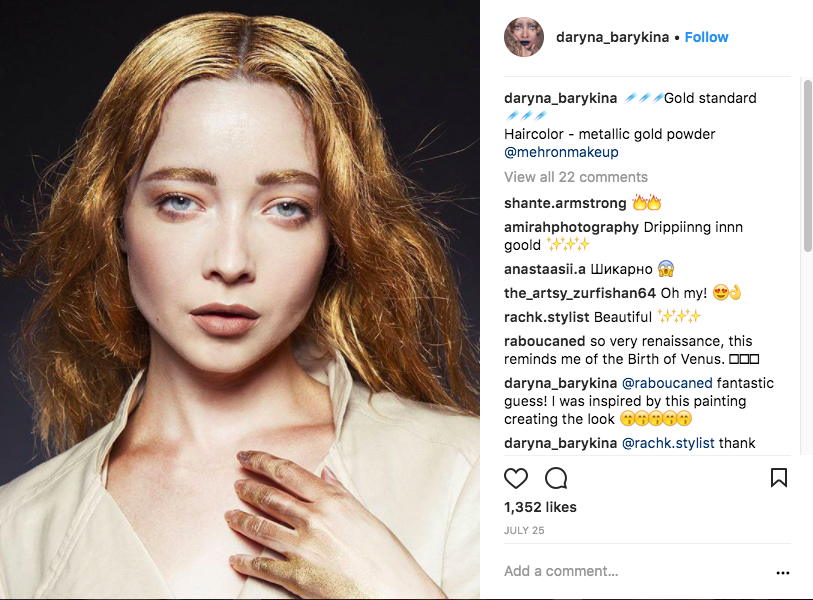 'Tis the season for sparkle and shimmer. And there's no better way to add a festive touch of shine to your makeup look than with metallics. They are like jewelry for the face! This holiday use them to create a hint of the unexpected - metallic brows. Subtly swipe on your favorite shade of Metallic Powder for everyday or go bold for a night of reveling by combining it with a Mixing Liquid for the look of liquid metal. Daryna Barykina is our metallic brow maven. Her gold and silver brows created with Mehron's Metallic Powders dot her Instagram page and have been featured by Allure. We reached out to Daryna for her thoughts on this shimmery look for the holidays.
Mehron: We think these shimmery brows are a fun, festive look for the holidays. Do you agree?
Daryna: I absolutely agree! Adding a little shimmer or dazzling glow to your brows is a new way to spice up your red carpet or holiday makeup. I use metallics in powder or liquid form in my makeup for any event. I always get compliments and always get noticed - you can't ignore the glow! Metallics are not for shy people haha.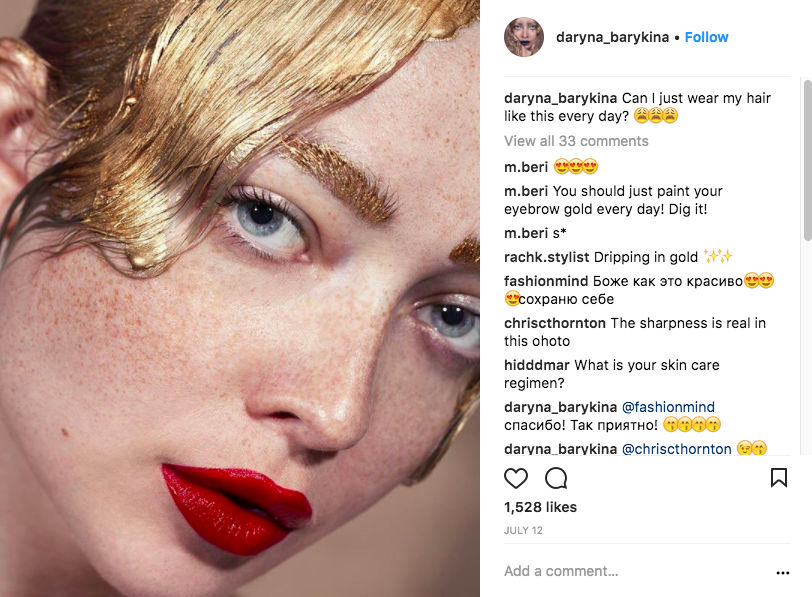 Mehron: Why is Mehron's Metallic Powder and Mixing Liquid your go to for these brow looks?
Daryna: Because of the product versatility. If I want a lighter effect, I would use powder. If I am going for more dramatic, I mix it with the mixing liquid and instantly get an extra punch. Metallic brows work on all skin tones and hair colors. Mehron has a wide range of Metallic Powders to choose from.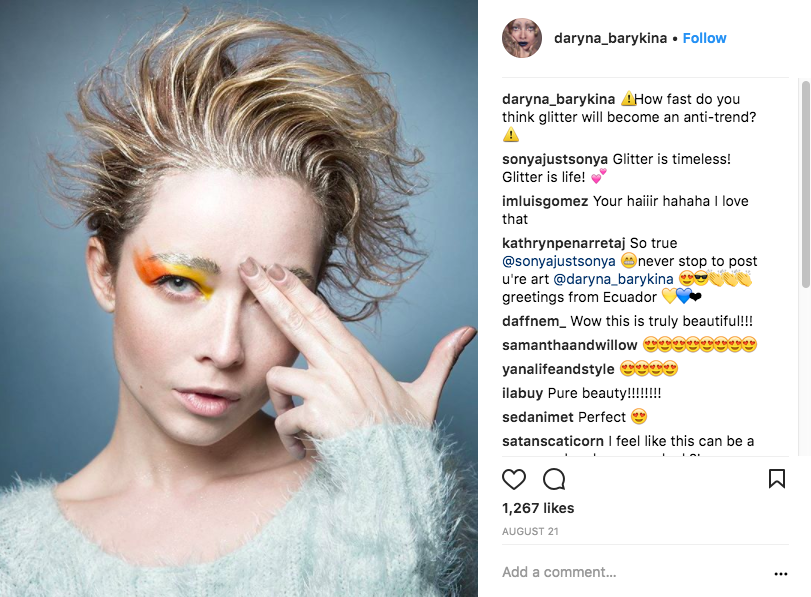 Mehron: What originally inspired you to shade the brows with metallics?
Daryna: I am very much inspired by sci-fi, and metallic hair and makeup makes me think of aliens, spaceships, galaxy, etc. The metallic element, added to a human appearance, sends off a magical, futuristic vibe. Brows are the frame of the face, and any manipulations with brows change the perception of the expression and the character. Metallics transform you into a magical creature, and who wouldn't want to be one?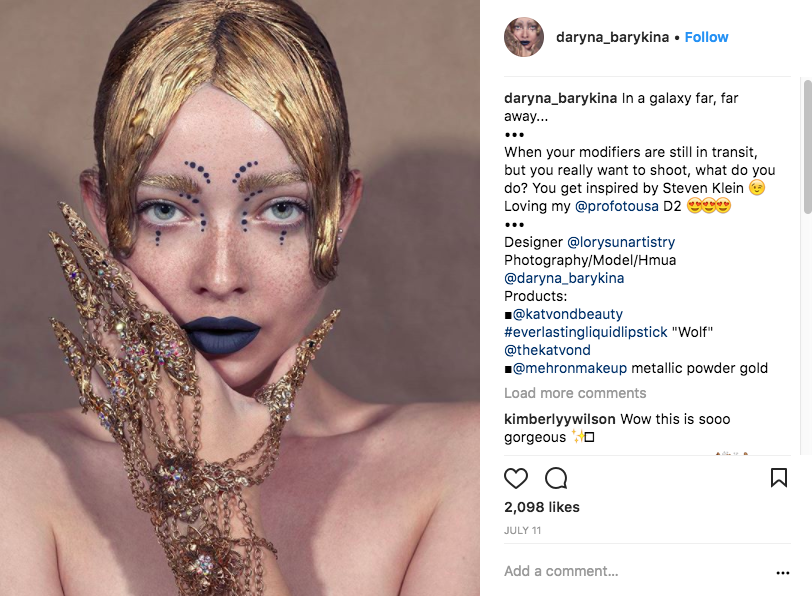 Mehron: Are there any application tips you could share?
Daryna: For a lighter look, I would pencil, fill in, and brush the brow as you normally do. Then, I would add powder with a flat brush, wiping across the brow. For a more intense look, I would recommend to gel your brows first, and then apply liquid metallic pigment (Mehron's Metallic Powder mixed with Mixing Liquid) with a flat brush going over the hairs and filling in the gaps. Gel flattens and polishes the surface of the brow and provides better shine.
Mehron's Metallic Powder comes in a variety of shades to complement your skin tone or mood - Gold, Silver, Copper, Bronze, Rose Gold and Lavender. And now, you can save if you purchase all six. The complete six shade collection plus a 4.5 oz. Mixing Liquid are a Black Friday Deal.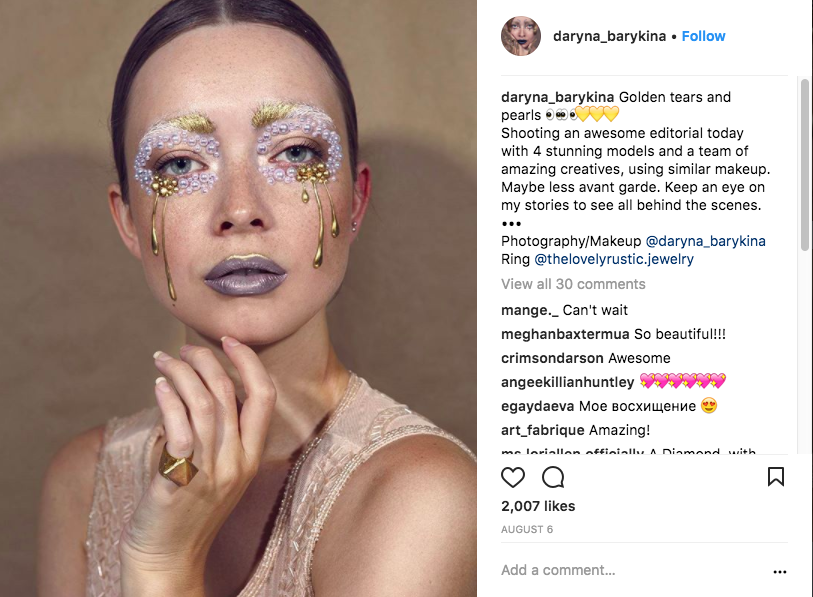 Model, Makeup and Photography: Daryna Barykina. To see more of Daryna's looks follow her on Instagram