Save the Date: World Bodypainting Festival
20th Feb 2018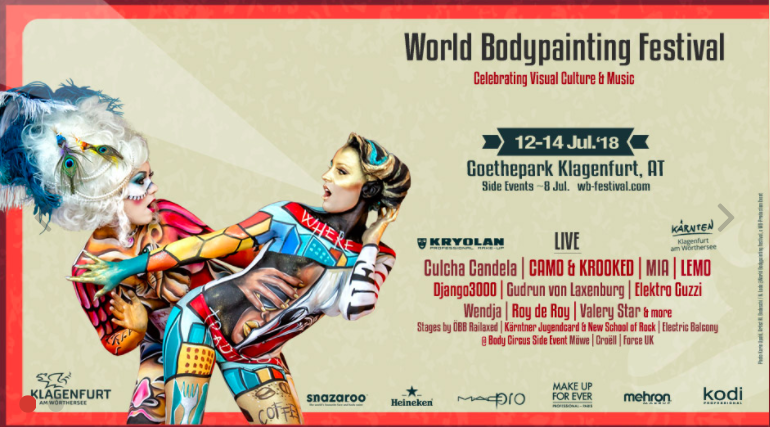 We are excited to once again be sponsoring the World Bodypainting Festival, which takes place July 12-14 in Austria. This international event draws top talent from across the globe. Last year's festival had artists from 54 countries competing for coveted world competition titles, with Mehron UK sponsored Nicole Aspradakis taking 6th place in the Brush and Sponge category. We are thrilled that Nicole will be back for 2018. While the festival is known for its competition, there is so much more. In addition to a potpourri of incredible artists, the three day multi-cultural, multi-media event also draws in fans of the craft. The open air art park, called Bodypaint City, where visitors watch as the artists create their masterpieces, music and shows create a fun and memorable experience for all who attend. Award-winning bodypainter and co-creator of Mehron's Paradise Makeup line, Jinny, will be teaching workshops on Bodypainting for Beginners and Cirque Style Facepainting, as well as serving as one of the competition judges.
Watch the video below for a glimpse of the festival's colorful and captivating body art experience.
Interested in participating in the competition? You have until June 17th to register - but, it's recommended to register early as all categories have a limited number of participants!