Mimi Choi x Mehron Illusion Makeup Palette
1st Oct 2018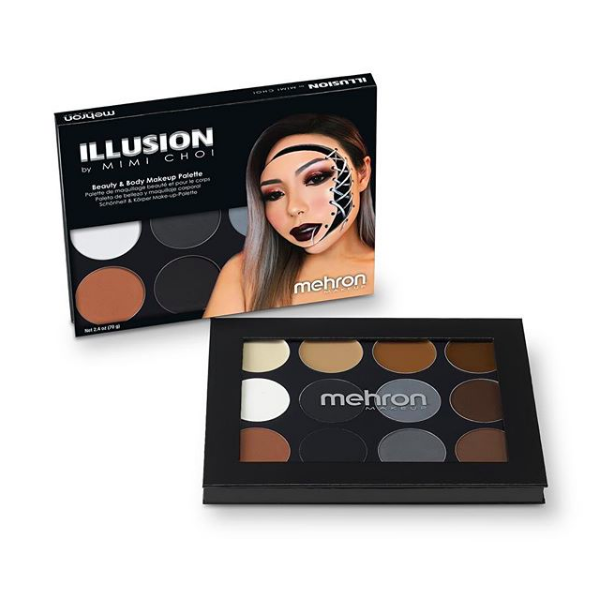 It's here! We have officially launched the limited-edition makeup palette created exclusively for renowned optical illusion makeup artist Mimi Choi. Mimi's mind bending makeup designs, which are adored by hundreds of thousands of fans across the globe, are regularly featured in media outlets, including Cosmopolitan, Allure, PopSugar and Huffington Post. Now you can recreate her looks and invent your own using the Mimi Choi Illusion Makeup Palette. It contains every Mehron product you need to create astounding illusions: 4 shades of Celebré Pro HD, 4 hues of Paradise Makeup AQ, and 2 E.Y.E Powders, and 2 iNtense Pro Pressed Pigments. Each product and shade was hand-selected by Mimi.
Features:
Mehron's Beauty and Body Painting Makeup combined in one compact palette
Combination of pressed powders and water activated paints offer unlimited possibilities
Made in the USA with highest quality ingredients
Vegan, Cruelty-Free and Paraben-Free
Limited edition, available while supplies last
The idea for the palette emerged at IMATS where Mimi was demonstrating her amazing talent at the Mehron booth. She and Mehron's Creative Director, Stephanie Koutikas, started chatting about how great it would be to have a palette that contained EVERYTHING needed for her illusion makeup designs. That chat morphed into a discussion on creating a compact palette for Mimi's classes that combined beauty and bodypainting products, which led to this perfect palette for ALL artists.
"Mimi has been using Mehron products in her looks for years - the first products she used were Mehron's," said Koutikas. "Her history as a Mehron Girl and her love of the brand made for a natural collaboration. Mehron prides itself on being an artist brand and supporting artists on their artistic journey and educational pursuits. We are so excited to collaborate with Mimi on this fabulous all-in-one palette."
Mimi, a Vancouver-based professional makeup artist, uses her bouts of sleep paralysis, in which she experiences vivid hallucinations, to fuel her imagination. These often frightening visions have inspired many of her distorted face looks. Striving to confuse and inspire, Mimi instructs and leads various master classes where she demonstrates her iconic looks.
All the looks in the video below were created using this one single palette.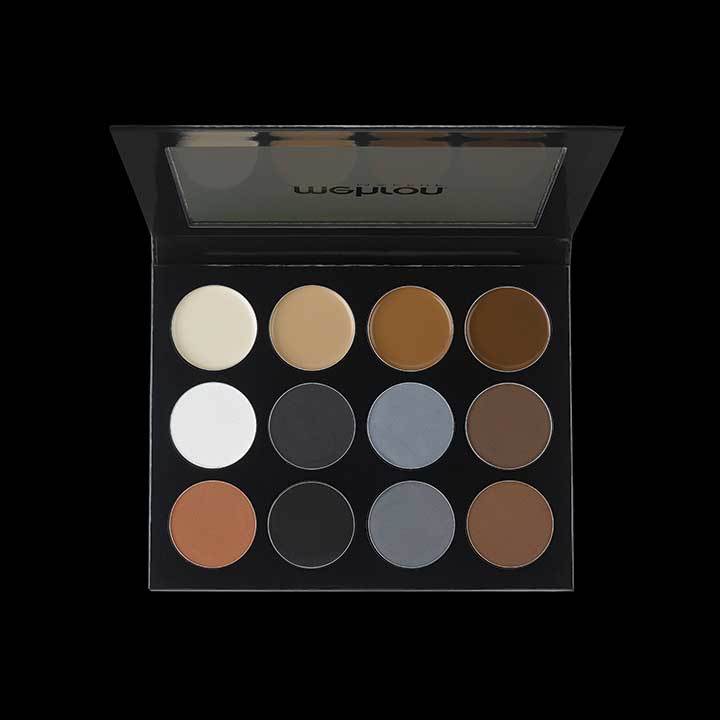 Mimi Choi Illusion Makeup Palette $69.95
Top Row: Celebré Pro-HD Cream Foundation (Eurasia Ivory, Medium 1, Eurasia Chinois and Dark 4). Celebré professional cream foundations deliver satin-smooth, buildable coverage with a dewy finish. Perfect for all skin types, Celebré is enriched withe the nourishing properties of pomegranate, vitamin E, and aloe.
Middle Row: Paradise Makeup AQ Face & Body Paints (White, Black, Storm Cloud, Dark Brown). This top rated professional body painting makeup delivers rich pigments in opaque hues. Water activated, Paradise AQ's semi-soft matte makeup is the preferred choice of award-winning artists around the world.
Bottom Row #1 & #4: E.Y.E Powder (Cinnamon, Espresso). Our professional matte finish eye shadows are velvety soft and blend effortlessly to define the eyes. The advanced formula contains vitamin E and shea butter.
Bottom Row #2 & #3: iNtense Pro Pressed Pigments (Carbon, Graphite). Truly distinctive pressed shadows in a matte finish. Their lavish formulation and plush texture deliver the ultimate in color saturation.