More
Mehron Makeup Holiday Sale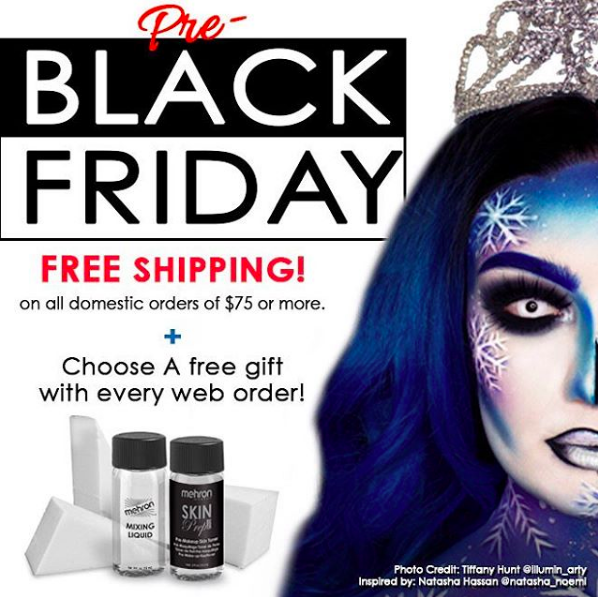 To help you beat the Black Friday craziness, we are kicking off our holiday sale early this year. We have marked down our best selling beauty, body painting, and performance products. And you can get these discounted items NOW - along with a free gift (0.5 oz Mixing Liquid, 0.5 oz Skin Prep Pro or 6-pack Non-Latex Makeup Applicator Sponges) and free shipping on web orders over $75. There is something for all the makeup lovers on your list. So start stocking up and saving on those holiday gifts - or the items you have had on your own wish list!
ECHO Pressed Glitter Palette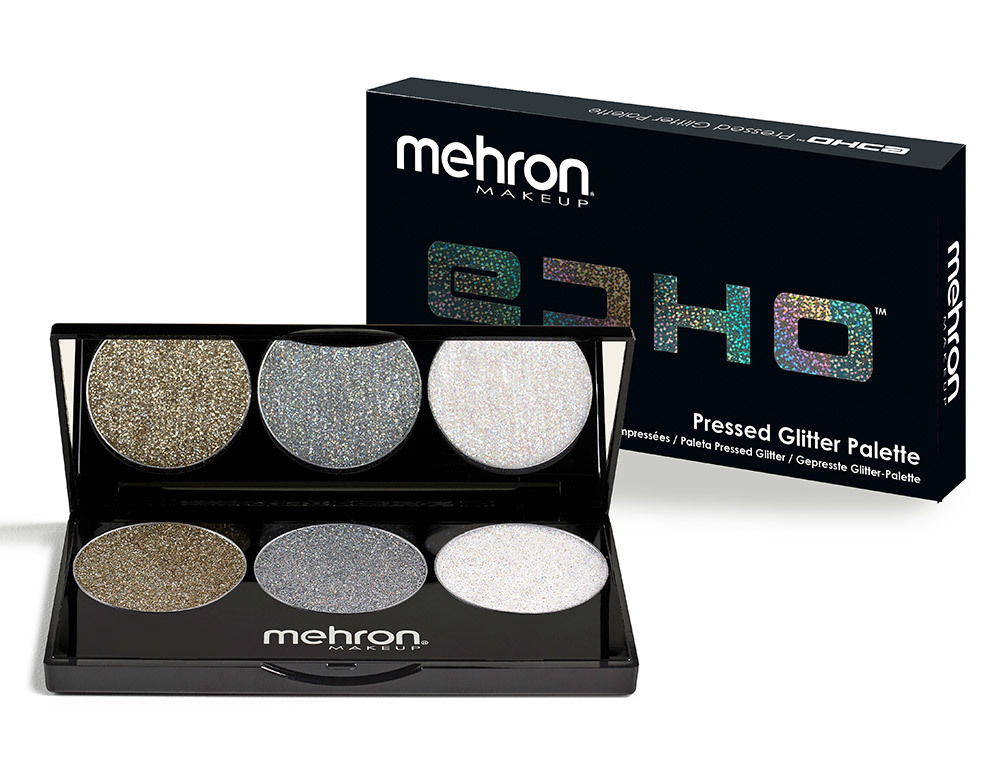 ECHO is a revolutionary way to add sparkle. No mixing medium or adhesives required AND there is zero fallout! All that and it's hydrating. The unique formula contains the beneficial properties of vitamin E and pomegranate extract. Apply using a beauty brush or fingertips. Wear alone or over your favorite Mehron products.
Vegan, Cruelty-Free and Paraben-Free.
Was $25.00, Now $19.95
Celebré Pro-HD Cream Foundation 12-ColorContour/Highlight Palette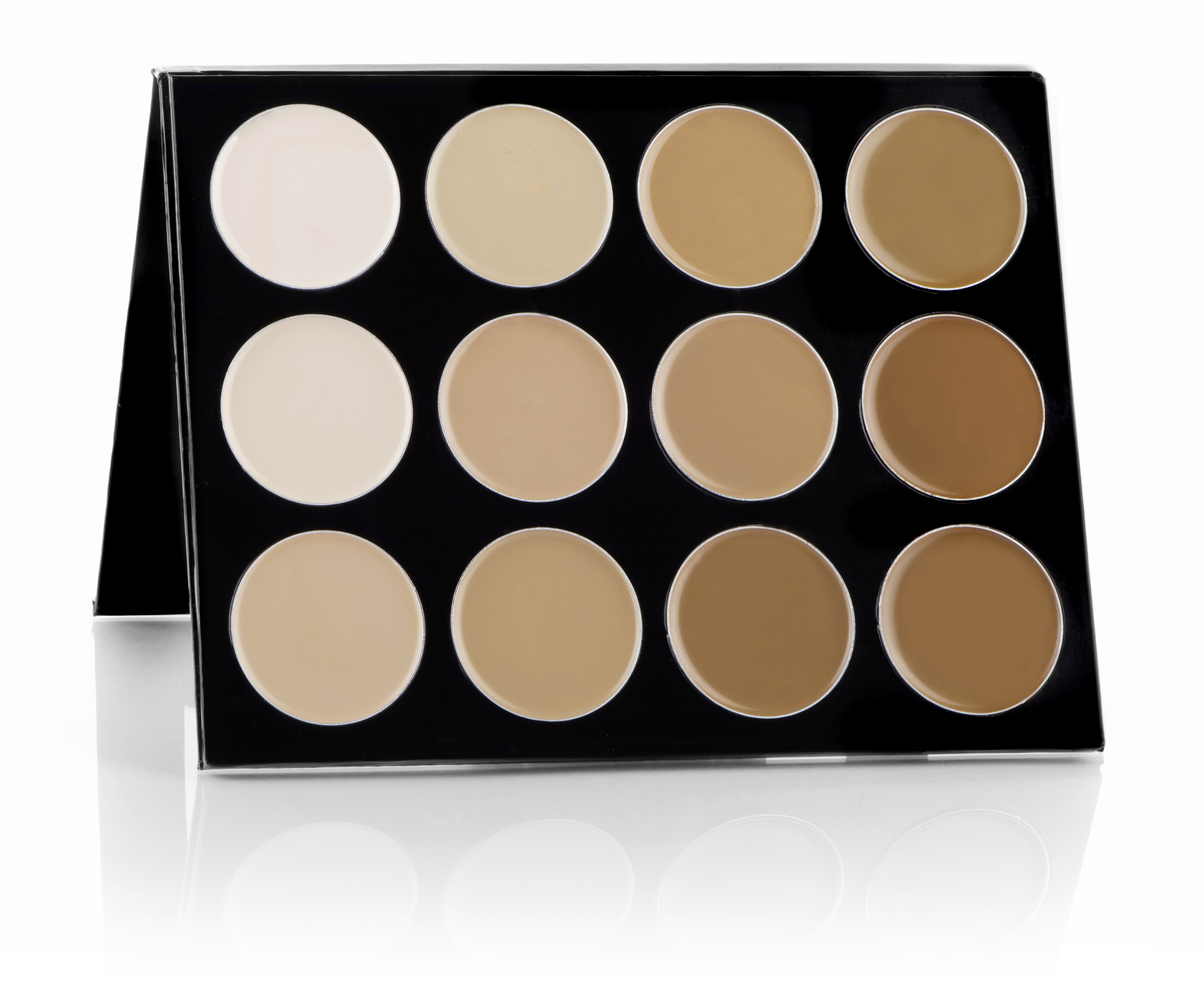 This innovative foundation delivers satin-smooth, non-greasy, buildable coverage for all skin types. The refined oil-free and fragrance-free cream formula contains the powerful antioxidants of pomegranate and vitamin E along with aloe vera to help soothe the skin.
Was $79.95, Now $69.95 PLUS you get a free
Mineral Finishing Powder with Purchase
Celebré Pro-HD Pressed Powder Foundation 12-ColorContour/Highlight Palette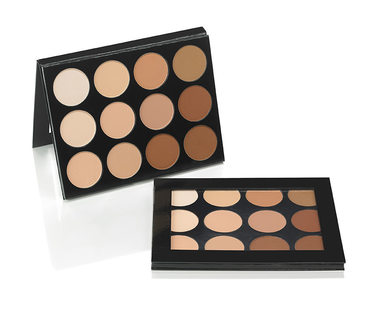 This oil-free and fragrance-free foundation delivers a natural finish. Like its cream counterpart, the pressed-powder formula also contains the powerful antioxidants of pomegranate and vitamin E along with aloe vera to help soothe the skin.
Was $79.95, Now $64.95 PLUS you get a free
Stageline Complexion Powder Brush with Purchase
Celebré Pro-HD™ Correct-It Palette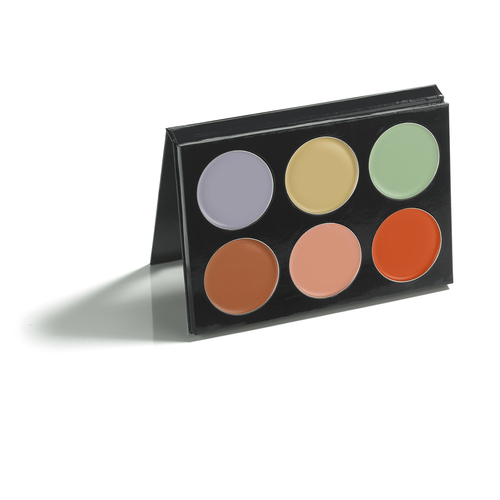 Celebré Pro-HD Correct-It neutralizes and corrects varying skin tones, discolorations, sallowness and dark circles. The refined oil-free and fragrance-free blend is infused with vitamin E, aloe vera, and the anti-oxidant power of pomegranate, to protect and moisturize the skin.
Was $21.95, Now $17.95!
Celebré Pro-HD™ Conceal-It Palette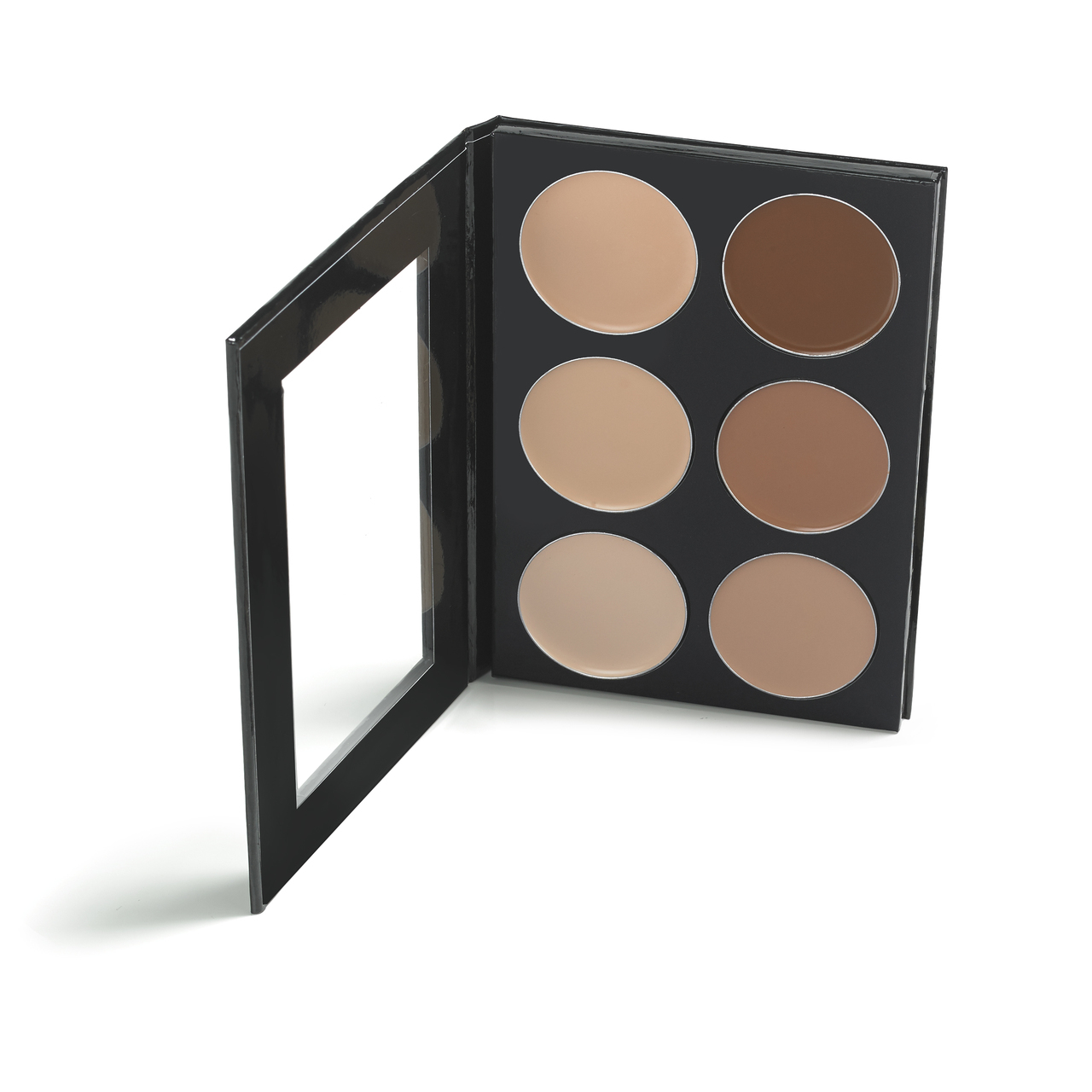 Celebré Pro-HD Conceal-It is perfect for concealing any type of blemish or discoloration. It contains no refined oils, is fragrance-free, and includes the powerful antioxidants pomegranate and vitamin E and aloe vera to soothe the skin.
Was $21.95, Now $17.95
1927 Liquid Vinyl Makeup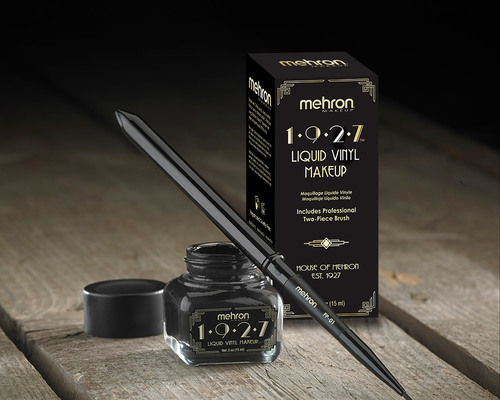 From the House of Mehron Est.1927 comes our jet black, paintable liquid makeup that delivers a high shine vinyl-like finish.1927's unique water and smudge resistant formula retains its glossy shine and lets you create endless textures and designs for face and body. Includes a professional two-piece brush that's perfect for creating the finest details.
Was $25.00, Now $19.95
Metallic Powder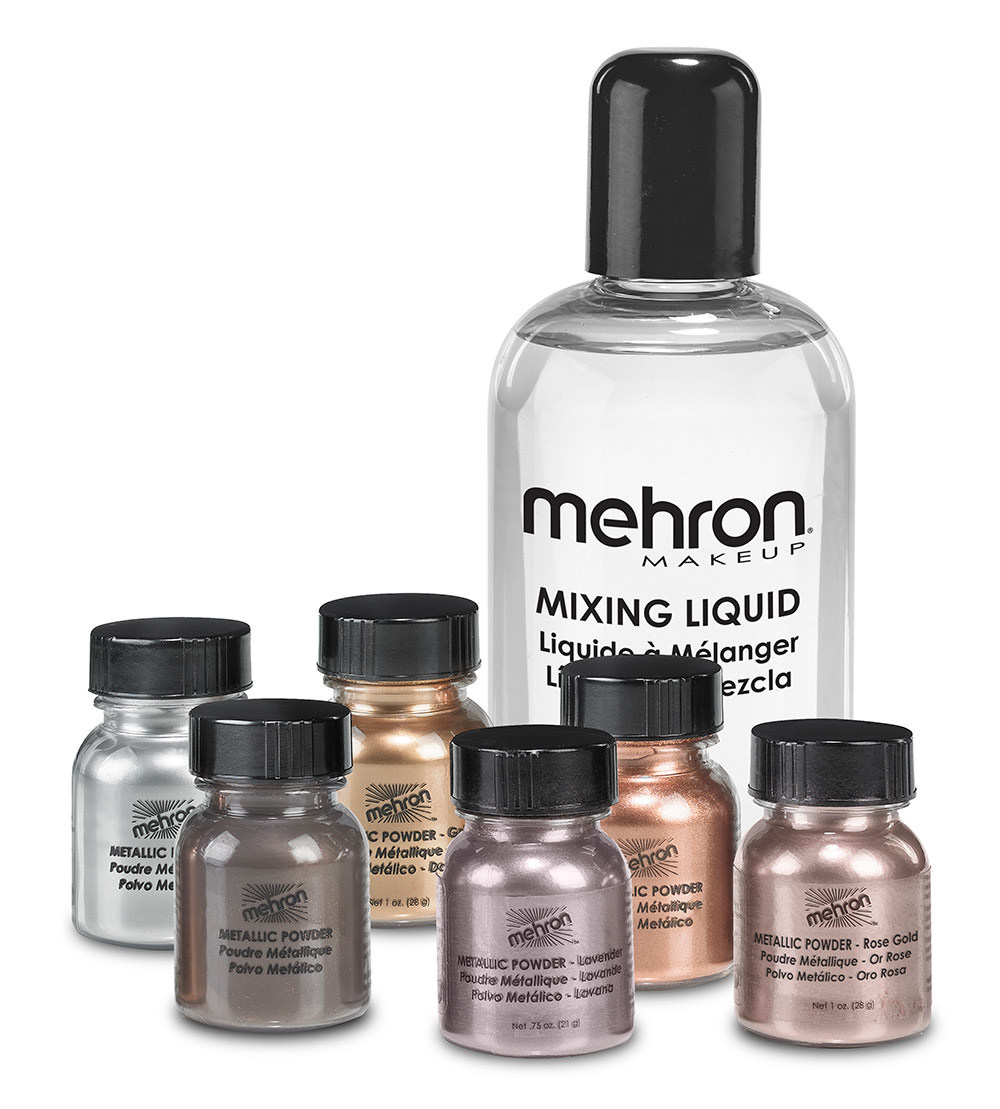 Metallic Powder can be used alone for a subtle sheer color or mixed with Mehron Mixing Liquid to create the intense color of real liquid metal.This ultra-fine Metallic Powder makeup creates the ultimate in dramatic designs and effects. The holiday set includes Gold, Silver, Bronze, Copper, Lavender, and Rose Gold plus Mixing Liquid.
Was $65.00, Now $59.95
PLUS you get a free bottle of Mixing Liquid


Paradise Makeup AQ ProPalette -12 Colors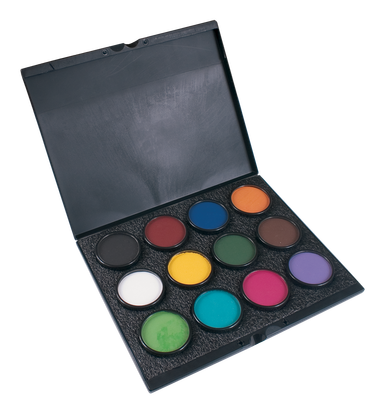 The ProPalette contains the 12 most essential and best-selling colors of Mehron's world famous, water-based face and body painting makeup: Black, White, Red, Yellow, Dk. Blue, Dk. Green, Orange, Dk. Brown, Teal, Lt. Green, Dk. Pink, and Purple.
Was $137.00, Now $99.00


Paradise Makeup AQ™ 30 Color Palette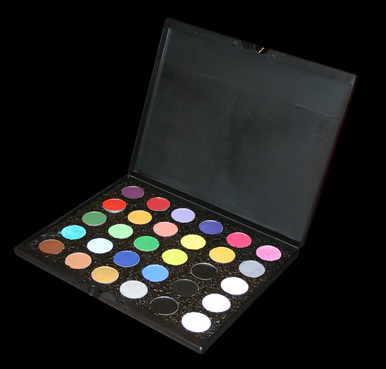 The Paradise Makeup AQ 30-Color Palette contains a kaleidoscope of water-activated colors to bring artistic inspiration to life. Each hue delivers richly-pigmented, bold color payoff.
Was $105.00, Now $99.95


Paradise Makeup AQ - 8 Color Palette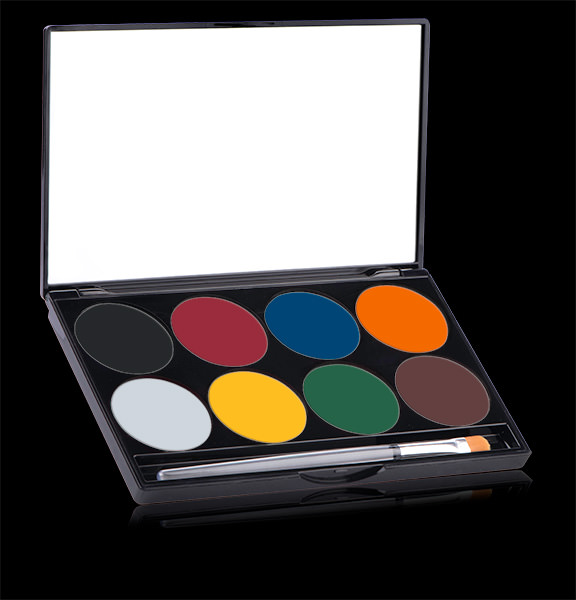 The Paradise Makeup AQ 8-Color Palette is the perfect choice for the novice or dabbler. It is available in 5 color choices: Basic, Pastel, Tropical, Nuance, and Brillant (metallic).
Was $39.95, Now $34.95


Paradise Face Painting - Premium Makeup Kit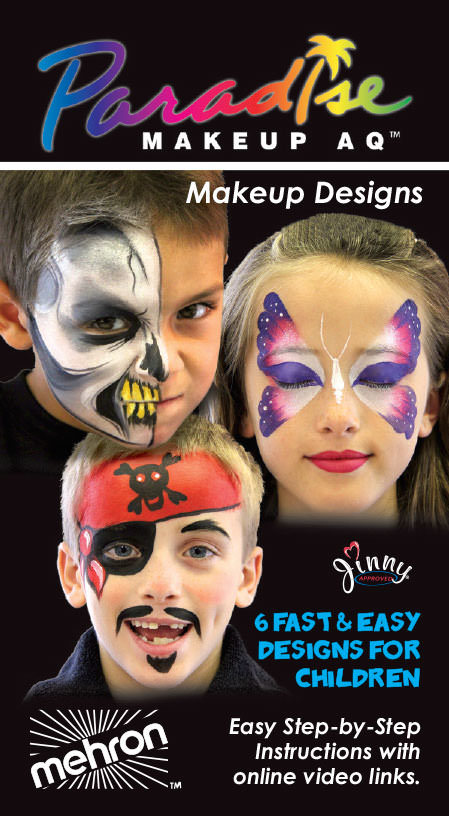 Developed together with the co-creator of Paradise Makeup AQ, Jinny, this all-inclusive kit includes makeup, tools and step-by-step instructions with online video links on how to create 6 fast and easy designs for children.
The kit includes:
Step-by-step instructions
8-color Paradise Makeup AQ™ Palette
Detailz - White
Paradise Chisel Brush
Paradise Medium Round Brush
Paradise Applicator Sponge
Paradise Glitter - Opalescent White
Was $36.95, Now $29.95
Special FX's All-Pro Makeup Kit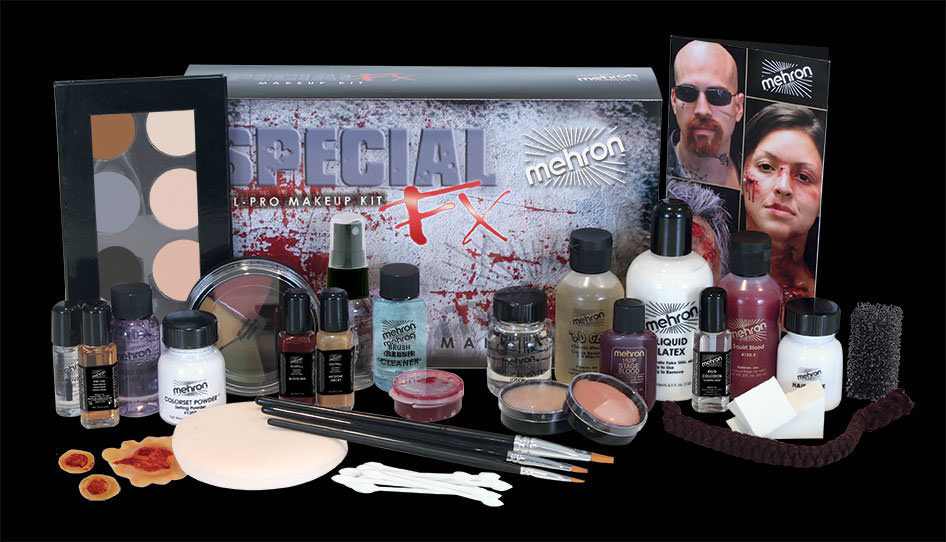 This kit is equipped with all the makeup and tools needed to create beginner to the most advanced makeup applications.This professional kit includes:Step-by-step pictorial instructions for special effects, 8-color palette with 4 Mask Cover shades and 4 CreamBlend shades, 4.5 oz. Latex Clear, 1 oz. Squirt Blood, Large Powder Puff, 2 oz. 3D Clear Gel, Stage Blood, .5 oz. Coagulated Blood, 1 oz. Barrier Spray, Crepe Hair, 3 full size Stageline Makeup Brushes, Colorset Powder, 1 oz. Makeup Remover Lotion, 1 oz. Brush Cleaner, 1 oz. Spirt Gum Remover, Spirit Gum, Tooth FX Blood Red, Tooth FX Nicotine, Rigid Collodion, Fixative A, 1 oz. Hair White, Modeling Putty/Wax, Extra Flesh, Bruise ProColoRing™, Stipple Sponge, Non Latex Sponges, Cotton Swabs, 2 Prosthetic Bullet Holes, and 1 Prosthetic Wound.
Was $126.95, Now $99.95


Mini-Pro Professional Makeup Kit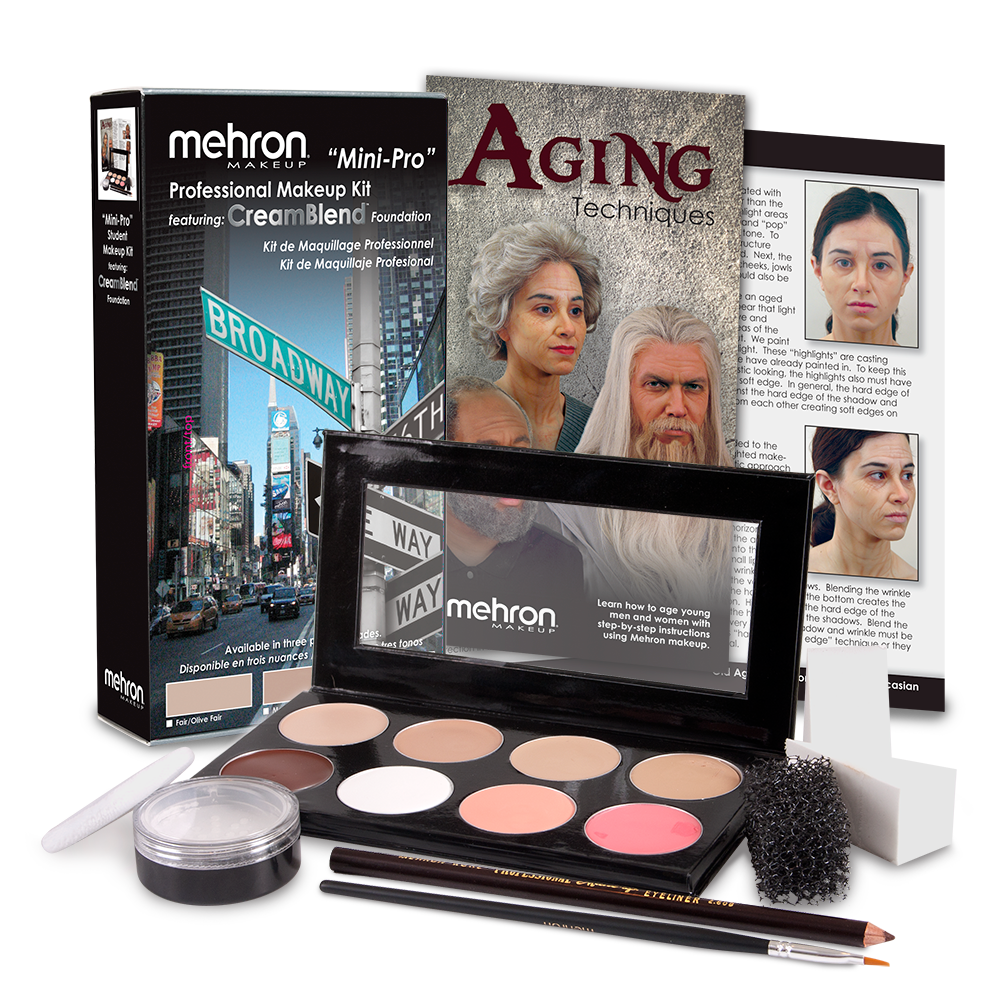 This kit is equipped with everything a modern performer needs to get ready for his or her performance. These pro-artist selected Mehron products are professional grade, the same great formulas used from Hollywood to Broadway.Three kit variations are available, each for various skin tones: Fair/Olive Fair, Medium/Olive Medium, and Medium Dark/Dark.
Each Professional Makeup Kit includes:
8 color cream makeup palette with 4 CreamBlend foundation shades, 4 Accent shades
Colorset powder
Eye liner pencil
Stipple sponge
Non-latex sponge Powder puff
Detailed Instruction booklet
Was $19.50, Now $16.95


Dancer Makeup Kit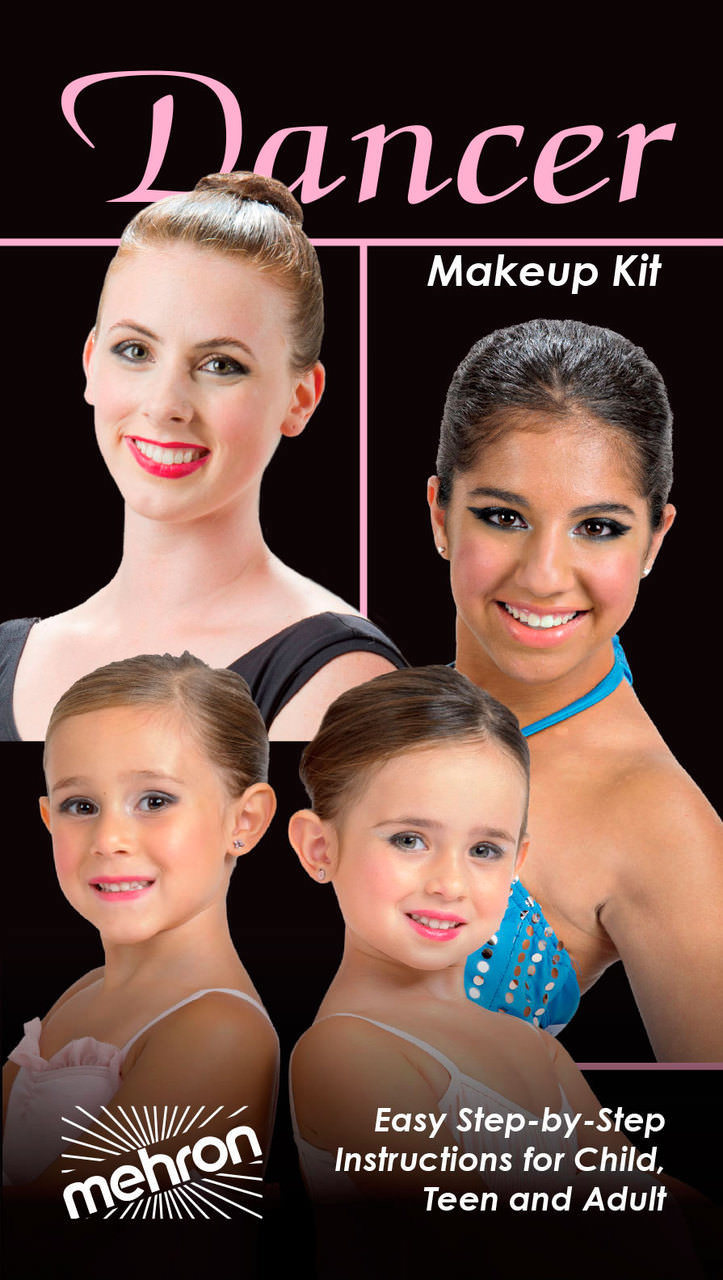 The Dancer's makeup Kit includes all of the vital cosmetic tools needed to create the perfect stage face, including an eight-page step-by-step pictorial instruction booklet created by makeup artists for the American Ballet Theatre.
Kit includes:
Step-by-Step Pictorial Instructions, 5-Color Celebré™ Makeup Palette, Barrier Spray™, GlitterDust™, Shimmer Powder, full-size Pencil Liner, Waterproof Mascara, Non-latex Foam Wedge, Double Point Cotton Swabs, Colorset™ Setting Powder, Powder Puff, and Makeup Remover Cloth.
Was $36.95, Now $29.95
Mehron Professional Beauty Brushes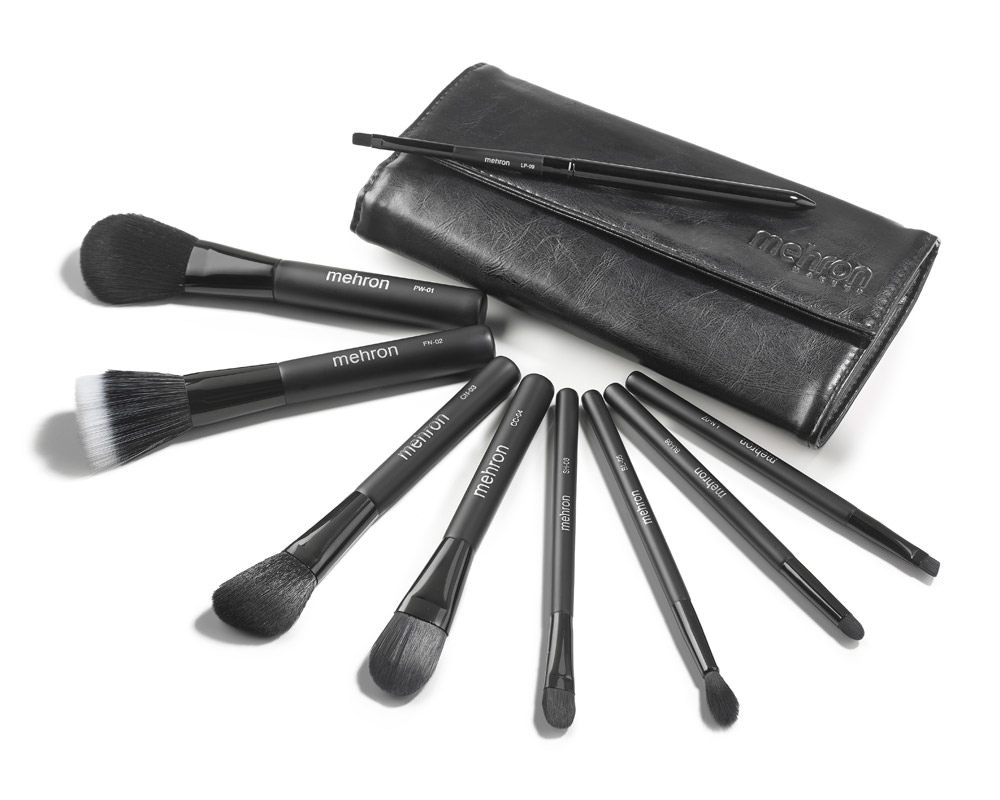 Mehron's 10-piece professional brush collection includes 9 top quality synthetic beauty brushes that provide the essentials for a full flawless complexion. You get everything you need to apply foundation, blend, contour, shade, conceal, line and fill in. Perfect for an on-the-go professional artist or even a novice to makeup artistry! Top Quality Synthetic bristles are cruelty free. MUA designed handles for comfort grip and precise control
Was $99.00, Now $69.95
Mehron's RIKI™ Portable Vanity Mirror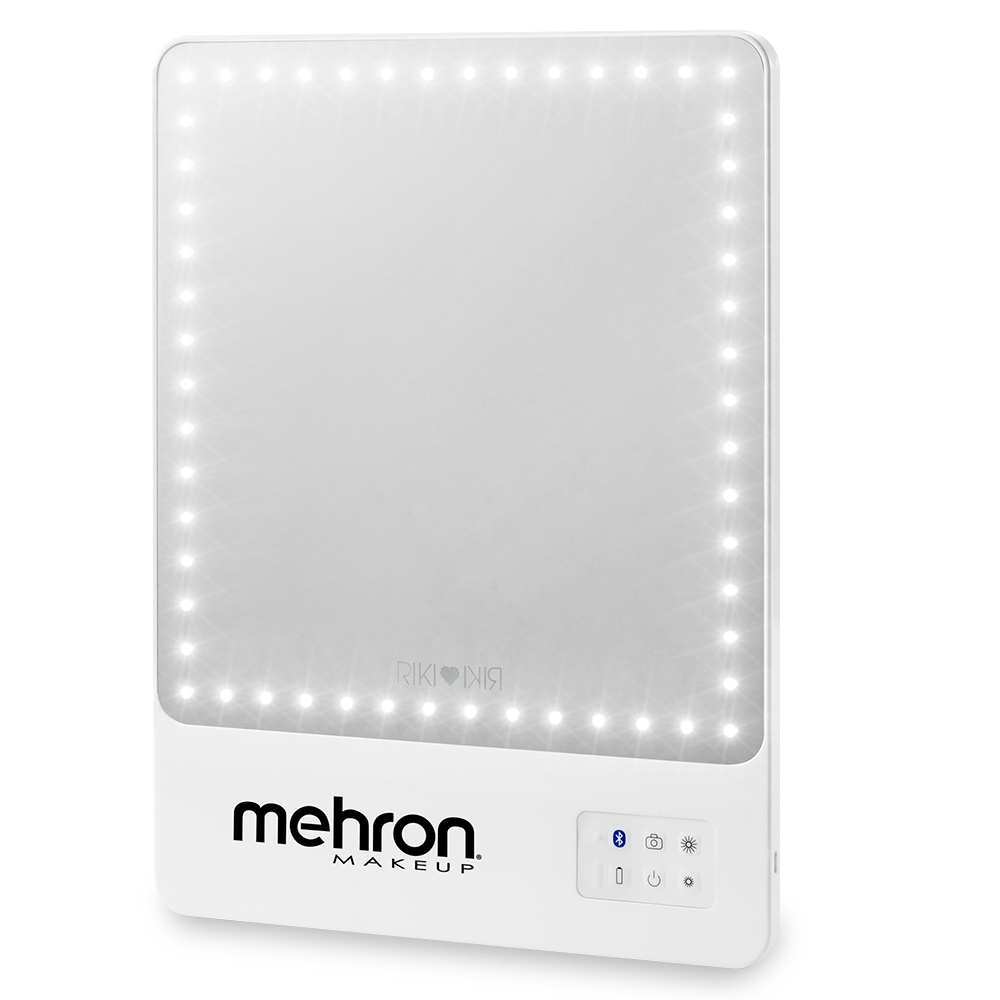 Mehron's RIKI™ Vanity Mirror is a state-of-the-art, super bright, lighted vanity mirror made by Glamcor.Designed with the latest technology, it delivers illumination never before seen in any LED vanity mirror. Five stages of dimming give you full control of your desired brightness for any situation or environment. Attach the magnetic 3X magnifying mirror to get up close and personal for the most effective makeup details.The RIKI™ includes an innovative PHONE CLIP that easily mounts right onto the mirror and works perfectly with its integrated BLUETOOTH SELFIE FUNCTION!
Was $195.00, Now $144.95
Paradise Makeup AQ™ - Brushes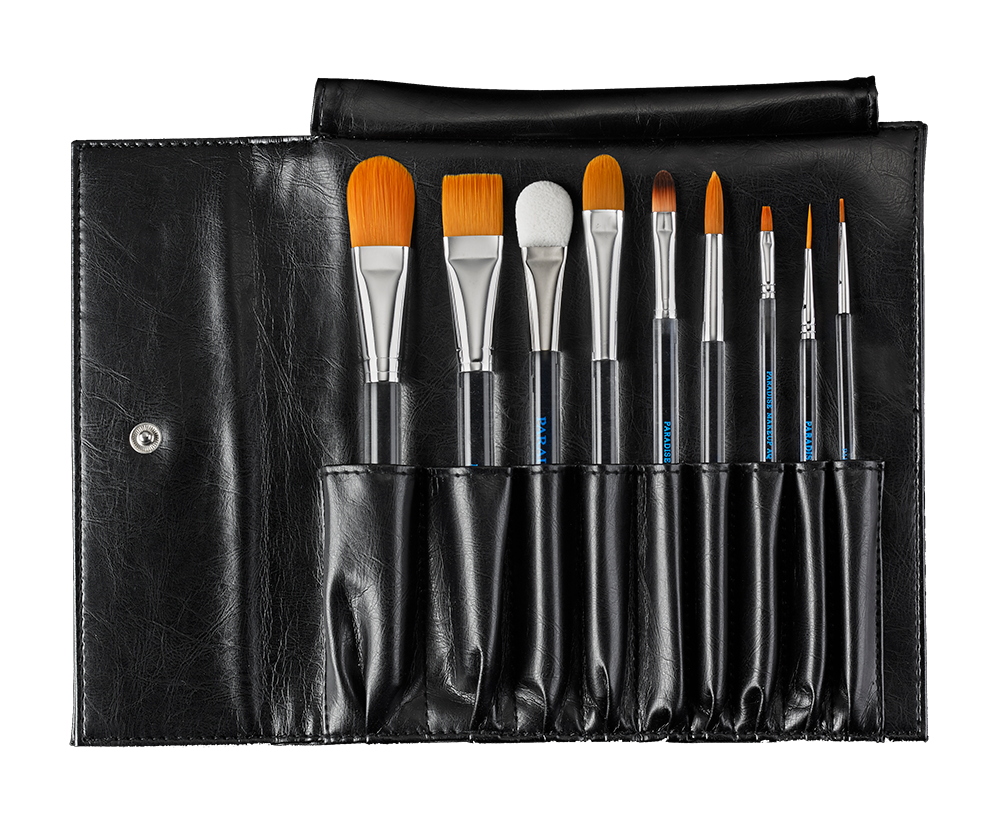 The 10-piece Paradise AQ Brush Set contains the essentials for face and body painting.This deluxe set includes: Paradise AQ Fine Point #810, Liner Point Round #811, 1/8 Flat Versatile #812, Bold Round #815, Wide Chisel #816, Petal Tip #818, Smoothie Blender #820, Mini Body #825, Prisma Medium ¾ #841, and Mehron's deluxe fold-up leatherette case.Perfect for an on-the-go professional artist or even a novice to body painting artistry!
Was $99.00, Now $69.95
Practice Head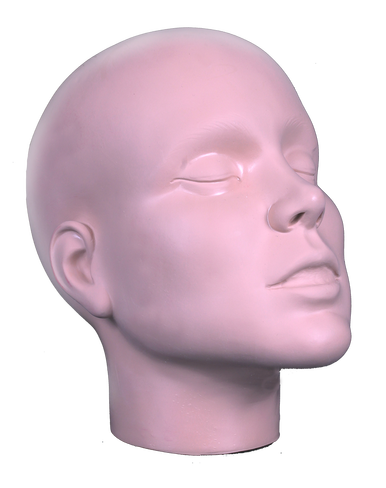 Run out of willing faces? We have the answer – Mehron's Face Painting Practice Head. Guaranteed to hold still, not rub his or her eyes and never run out of patience. This professional quality, washable practice head is the ideal learning tool to perfect face painting basics, practice specific techniques, test new makeup products and create your own unique designs. Made of durable vinyl which is smooth in texture allowing easy paint applications and ease of blending shades and colors. Clean with makeup remover and/or soap and water. Approx. 8" x 10" x 18".
Was $39.95, Now $35.95