Half Face Zombie Makeup Tutorial
10th Oct 2018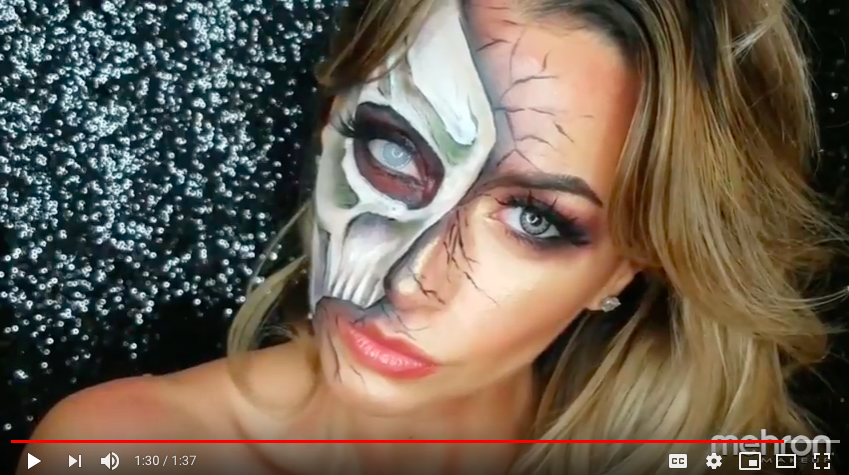 Can't decide between a face paint or glam makeup look for Halloween? You don't have to! This half face zombie by Beauty in the Shadows aka Vanessa Mendez creatively combines the two types of looks into one beautifully creepy costume. Watch the video tutorial below and follow along with the step-by-step directions to create a look that Cosmopolitan calls "scary pretty and pretty scary."
Step-by-Step Directions
1.Use E.Y.E Liner Pencil in Dark Brown to lightly outline the zombie section of the face.
2.Conceal the brow within the zombie section with Synwax. Let the glue dry between each layer, setting with Celebré Pro HD Loose Mineral Finishing Powder, until the hair is sealed.
3.With a dampened Foam Hydra Sponge Applicator, apply Paradise Makeup AQ in White over the entire zombie section.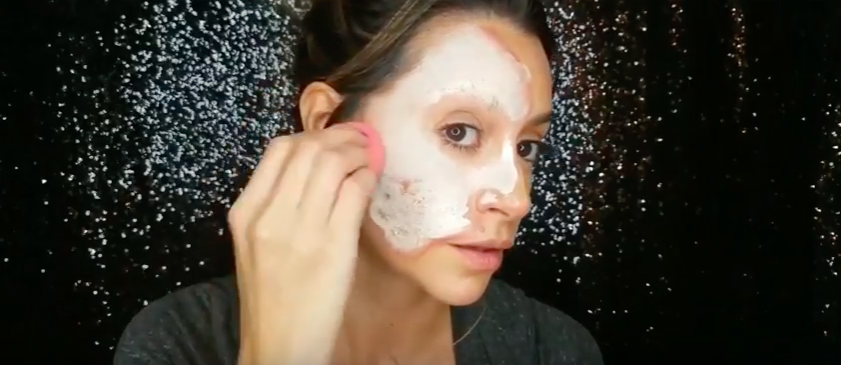 4.Using a fine tip brush and Paradise Makeup AQ in Black, draw a skull, including the outline of the eye socket, jaw, cheekbones and teeth. While the Black lines are still wet, use a blending brush to blur the lines.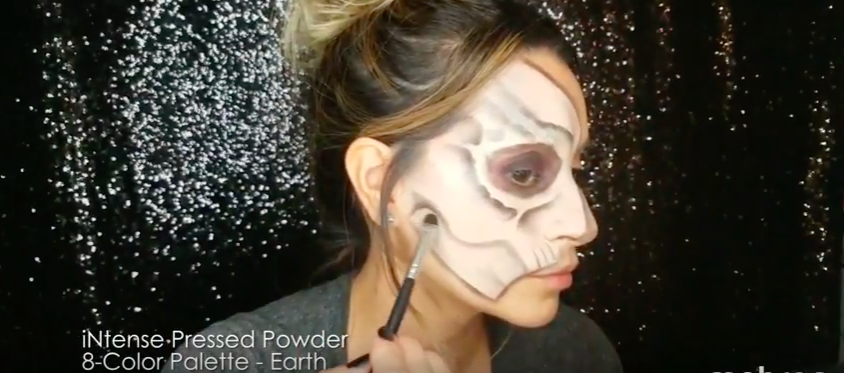 5.Next, shade inside the skull's eye socket with the iNtense Pro Pressed Pigments in Red Earth. Then create shadows and lights for a 3D effect. Use iNtense Pro in Carbon (black) and Graphite (gray) for the areas you want to recess and Paradise Makeup AQ in White for the areas you want to raise.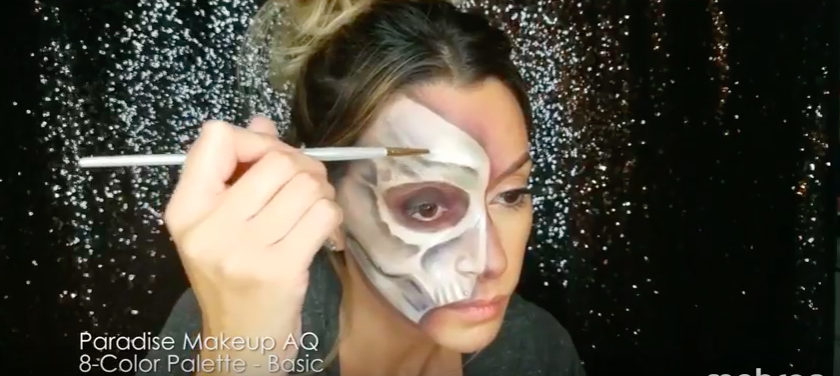 6.Go back and define the lines you blurred in Step 4 and the edge of the zombie outline using a detail brush and the Black Paradise Makeup AQ.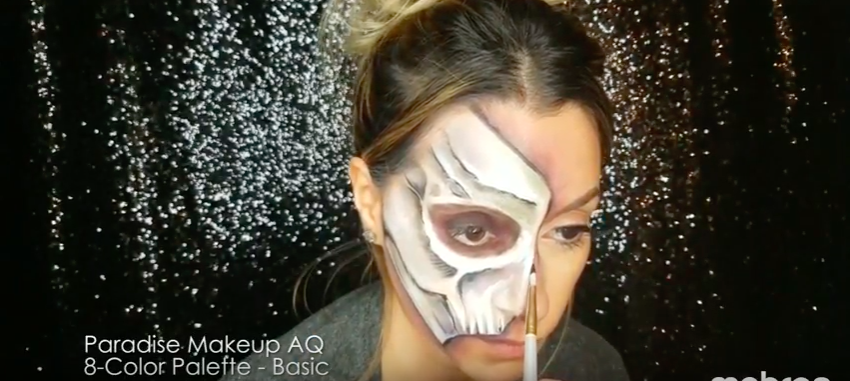 7.With a smudge brush, fade the zombie section into the skin on the glam look with iNtense Pro in Desert Sand.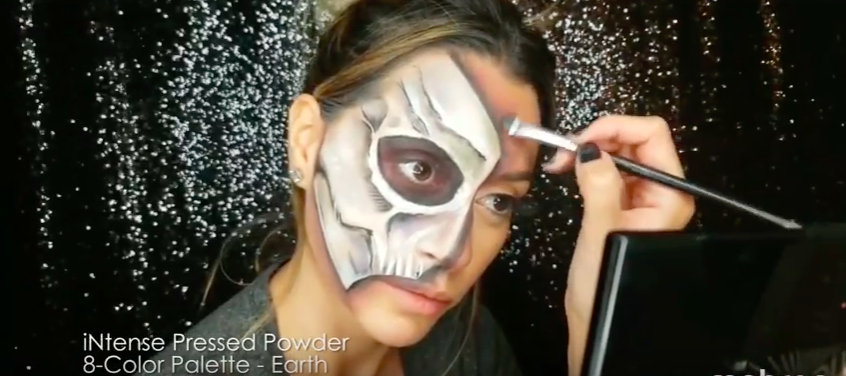 8.Create a smoky eye on the glam side using Red Earth, Carbon iNtense Pro. Add some shimmer and highlight with Highlight Pro.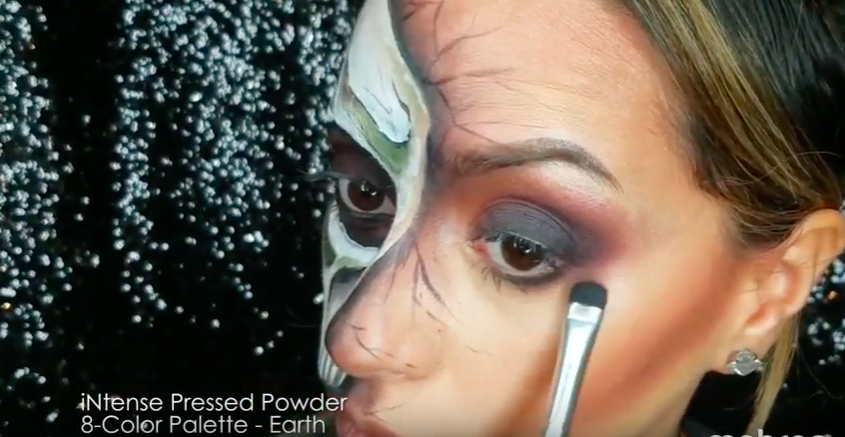 9.Apply Brazen Mascara.
10.Once the glam side is complete, add tiny black lines from the zombie section coming into the glam section to give the appearance of zombie breaking through the glam side.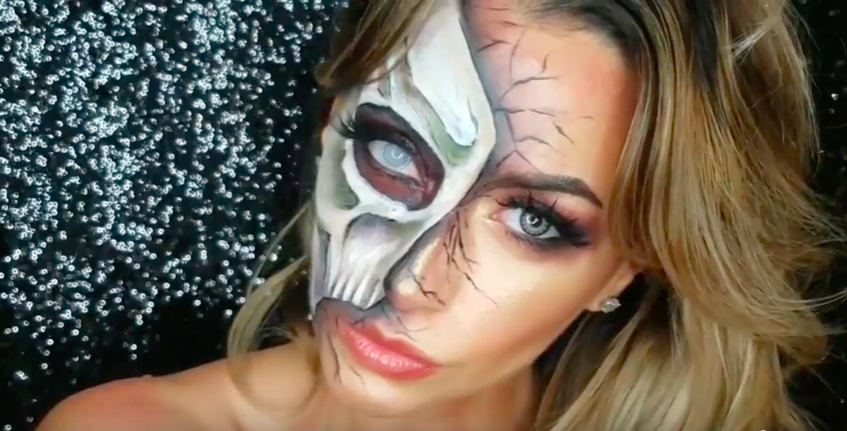 If you recreate this look, share it with us on Instagram!