Congratulations! 31 Days of Mehron Halloween Winner!
2nd Nov 2020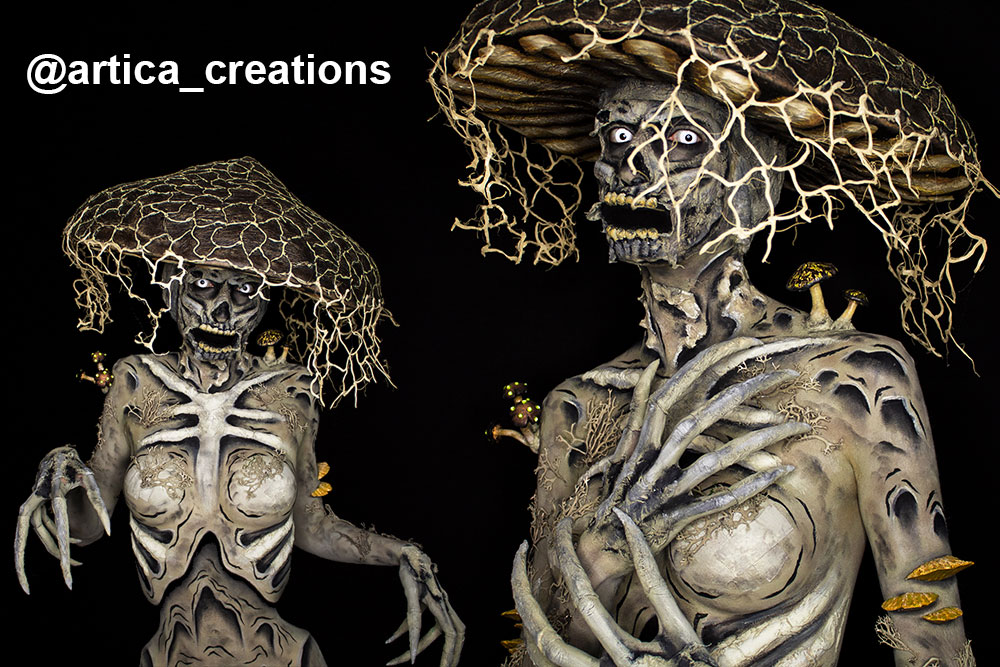 This years 31 Days of Mehron Halloween has proven to be another successful year of super talented artists from around the world displaying their art using Mehron. We had over 11K submissions this year, more than ever!! It was extremely tough to narrow down 31 finalists, but after careful consideration we were able to find them. An artist's work definitely speaks for itself, but we dove deeper to find out what the artists used, did they use Mehron? Did they follow all the rules? Did they create something original and create it this year? All of these questions were asked and if a skilled artist checked off each box we named them a finalist. After all 31 were chosen came the big decision….who to choose for the Grand Champion? It wasn't easy, but after taking a second look we found that @artica_creations had something extra special about her. How many people can say they turned a fungus into a special effects makeup look? Right there she wins in the originality department. Not many can say they've done this, so in terms of overall creativity she nailed it. Not only that, but she used a ton of Mehron to create this masterpiece from Latex to Wax, Paradise to iNtense, just to name a few. Did we mention that she hand made all these prosthetics? The time and effort she put into this is outstanding and the application is flawless. This is exactly what we look for in an artist, someone who can take something as simple or common as a mushroom and bring it to life by creating a character! Congratulations @artica_creations you have absolutely earned your title as the 31 Days of Mehron Halloween Grand Champion!!!!
We reached out to the artist to hear more from her and get to know her better. We'd like to share this interview with you so you can get to know more about this fascinating artist as well.
When did you first start using makeup?
Since a child that I like the world of artistic makeup, being able to paint my face and become something else was something that fascinated me. With my first Paradise Makeup AQ I started creating characters on my face. In 2017 I decided to get me close in the world of makeup and I formed in several schools. Today I still want by forming me, especially in special effects, which is the kind of makeup that I really like. I love to be able to transform myself in whatever you can imagine, because with makeup I feel that there are no limits to be able to be what you want, beyond a simple human.
What was the first Mehron product you purchased?
The first mehron products that I had were a birthday gift from my friends that I asked them, which were several, liquid latex, squirt blood, colorset powder, barrier spray, modeling putty/wax, AQ paradise paints, INtense pressed powder. I remember that I was very happy with these products because I could already do my first fx makeup. I still have some, and they are wonderful in terms of quality.
What is your favorite Mehron product to use and how has it helped your artistry?
I like many mehron products, but without a doubt my favorite is the liquid latex because it sticks very well, dries quickly and is transparent. In the "fungus queen" look I finished almost the entire boat and all the prosthetics were perfectly attached to my body. I also like the squirt blood a lot because it seems so real, and the Paradise Makeup AQ is a pleasure to work with because they are so creamy.
What inspires your creativity and inspires you?
The truth is that I am inspired by many things, in nature, in animals, also in fictitious characters of series, movies, videogames, and in jobs from other artists such as makeup artists, illustrators, painters and sculptors. I like to recreate jobs that exist but what I like most is to create them, combining a lot of things to give life to a new creature. The cosplay also helps me a lot in this sense, because I can combine it with makeup perfectly to make a whole character with all its accessories.
What challenges have you faced as an artist and how do you overcome them?
In general, the art world is complicated because there are so many good artists everywhere, that getting to stand out is difficult and with makeup more. My main obstacle is not having money to continue investing in makeup and having more products, but whenever I earn something I spend it on materials because there is always something to buy, and not just makeup, but also to take quality photos, have a good camera, lighting, photography backgrounds. I adapt to what the moment offers me and I advance little by little but without stopping. The most important thing to continue growing in the world of makeup is not to stop practicing, to do little things whenever possible so as not to lose the technique, and thus I am improving. Every year that passes I see progress in myself and that makes me very happy. I think one of the most difficult things about makeup (and many jobs in general) is avoiding comparing yourself to others, because that can be very demotivating. I try to keep it from happening to me, because each person is different and not all of us have the same resources or time to invest in the world of makeup. I like to learn from others, ask questions and apply it to my work, but each of us has our own technique and style. Everything is achieved with work and effort, because if you want something with madness, you have to fight for it and never give up. I want to become great at this, and I am not going to give up, whatever the obstacle, because makeup is already part of my life and my way of being.