Fee Fromkin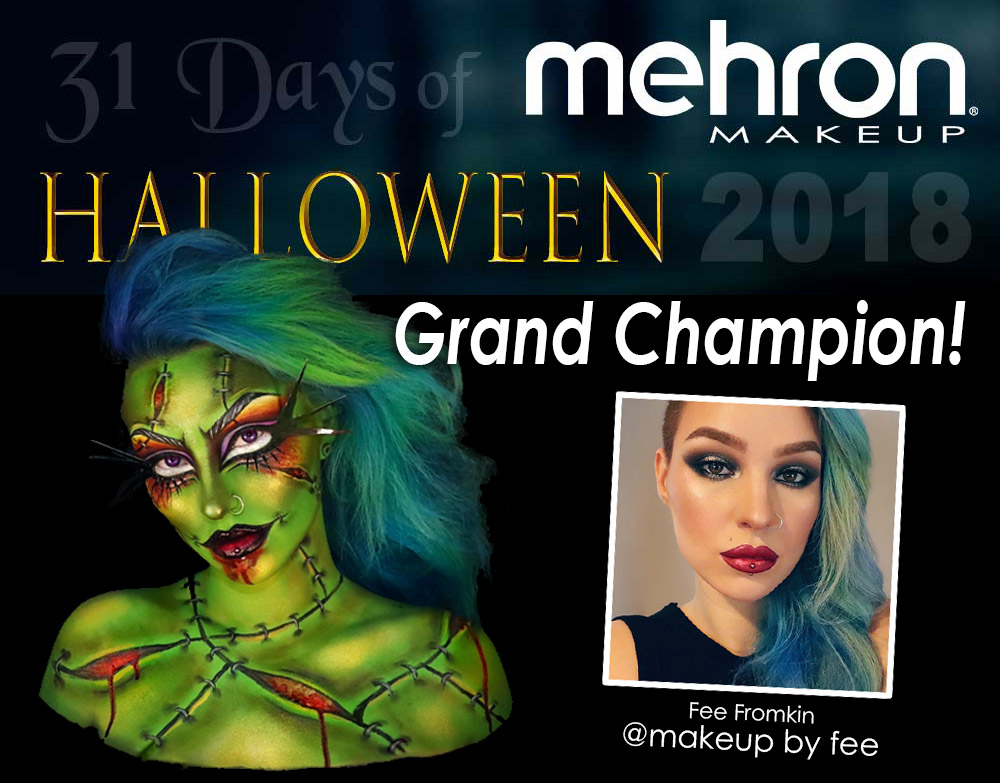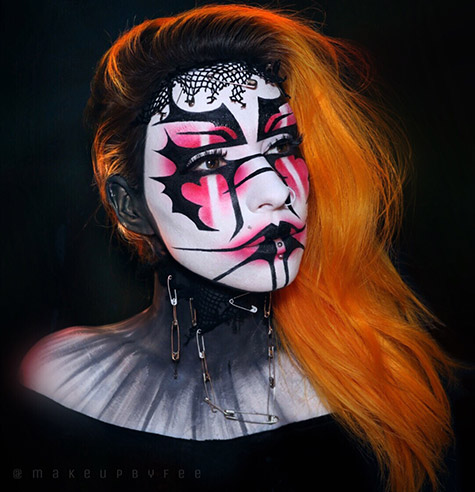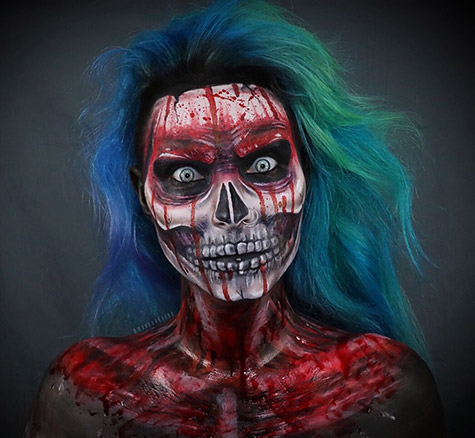 Fee Fromkin

Fee Fromkin has won our hearts and admiration. The avant-garde artist and body painter, who was recently named the 31 Days of Mehron Halloween Grand Champion 2018, truly embodies what it means to be a Mehron Girl. Her craft is her passion. She consistently pushes the boundaries of makeup, striving to tell a story and create looks no one has seen before.

"Sometimes my work is weird, sometimes scary, sometimes fantasy, but it's always a pure representation of myself," says Fee. "I've been fortunate enough to become part of a community that not only understands my work but embraces my unique perspective and I am eternally grateful for that."

Proud to be among those who welcome and are inspired by Fee's creativity and love of her craft, we have chosen to feature her as a Spotlight Artist.
Q and A
Mehron: What drew you to makeup?
Fee: Everything always started with art. Very early in life, I found myself drawn to the arts - in all forms. I found beauty in being able to tell a story without saying a single word. As I got older, I began to experiment with makeup. Makeup was my identity. It was through it that I truly found myself. In the beginning, it was a way of self-expression, but later it became so much more. I had taken a hobby of doll making and found myself infatuated with painting their faces. That was the "light bulb" moment in which I saw how much further I could push the artistry of makeup.

Mehron: What is your first makeup memory?
Fee: My first makeup memory was when I was 12-13 years-old. I had really become obsessed with the Goth subculture. I wanted a way to transform into the person I saw inside my head. I bought a black gel eyeliner, which I used misguidedly for eyebrows, eye shadow, and liner. That was the beginning of a wild year of makeup experimentation. I can look back now and cringe at those times, but without that exploration, I would not be the artist I am today.

Mehron: As a self-taught artist, how did you learn and hone your skills?
Fee: I got a job at a beauty counter where I learned all the facets of beauty, bridal, and special occasion makeup. It was my love for all things artistic, however, that drove me to crave more. I began to dedicate all my free time to creating creatures and avant-garde looks. At first, this was just for myself, but I was inspired to then share my creations on Instagram. It was a series of trial and error, reaching out to other artists that inspired me, and countless hours of dedication. My relationship with makeup is obsessive and if I have any free time, you will most likely find me in my studio, creating.

Mehron: What artists inspire you?
Fee: Alex Box, Ryan Burke, Pat McGrath, Rick Baker, Kabuki, Ve Neill, Val Garland, and Claude Monet.

Mehron: What inspired you to enter the 31 Days of Mehron Halloween contest?
Fee: First and foremost, I am IN LOVE with Mehron products. The creation of many of my pieces could not have been done without them. That, paired with the fact that Halloween is my favorite time of year, made entering the contest a no-brainer. I had seen the entries in years past and the artists selected had always been of the highest caliber and I knew I one day wanted to join their ranks.

Mehron: What does it mean to you to be the contest's Grand Champion?
Fee: It truly means everything to me. Throughout the past few years, I have experienced a few major setbacks within my personal makeup career and life... even some moments where I wanted to give up makeup altogether. It wasn't until I got to a breaking point and just sat down and created, that I found it to be a true source of therapy. When I am in my studio, I never feel more at peace and I am so fully immersed in whatever story I am bringing to life. Since finding this intense, crazy passion of mine, I have spent countless hours honing my craft to the point my family and friends would almost worry about me. Winning this championship makes all of the ups and downs that come with being an artist so worth it. I am so thankful to be given this opportunity and overwhelmed with the prospects of what is to come. This, to me, is a true high-point in my career and validates the artists that don't give up.

Mehron: What advice would you share with other new artists?
Fee: My number one piece of advice is to never stop creating, but beyond that never stop pushing yourself. You have to be in charge of your own self-development, you can't wait around for others to ignite your fire - you have to tend to your own fire. Look at things in new ways, lean on the support of your fellow artists, try something completely against your own grain, but above all, never be afraid of failure. A fear of failure is a dead end. People that never fail, never learn. Failure is essential to the artist's learning process. Lastly, and I can't stress this enough, support your fellow artists. They have so much you can learn from and so much that can inspire you. Be a teacher to someone else and you'll be amazed how much you learn yourself.